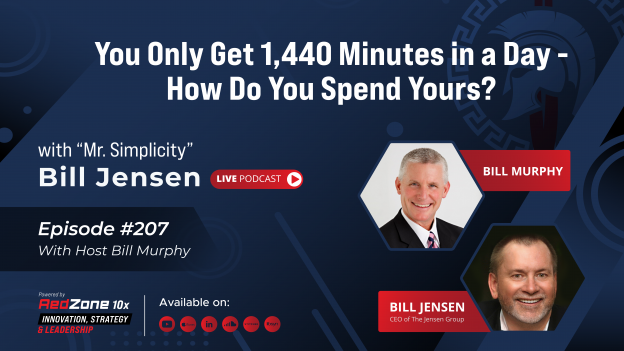 In Episode #207, I talk with Bill Jensen. Bill is the CEO of the management consulting firm, The Jensen Group, and is a world-renowned thought leader who has been given the nickname, Mr. Simplicity.
As a CIO and Business IT Leader here are some wins you will get by listening:
You need two kinds of mentors- one that makes you feel comfortable, and one that pushes you to get outside of your comfort zone. (27:30)
Storytelling is the most impactful way to simplify an idea. (7:30)
The most important asset that everyone has right now is their time and attention. (8:00)
The way you focus on time is to respect the fact that everyone only gets 1,440 minutes in one day. (9:30)
Only 9.8% of people surveyed said they can achieve their dreams where they currently work. (21:30)
The two components of simplicity are empathy and storytelling. (7:00)
We can teach anybody anything. We can give anybody any problem if we give it to them at their level, not ours. (4:30)
Three years from now, you will have a lifetime worth of change to deliver. What is the legacy you want to leave behind? (18:30)
2020 has taught us that we need to focus on personal impact. (25:00)
Bill has spent the last 30 years studying the best ways work can get done. He is a passionate simpleton who is against corporate stupidity that wastes people's time, attention, and dreams. Some of the biggest topics Bill covers with his work are the top essentials for leading people into tomorrow, creating cultural agility with digital transformation, and developing focus, speed, and clarity in today's crazy world. Bill has worked with numerous large corporations on these topics, including American Express, GE, IBM, and SAP.
Bill's competitive advantage is his work ethic and passion for making it easier for everyone to work smarter, not harder. He has interviewed and surveyed over 1 million people and always has an eye for the future. This eye for the future prompted IBM to invite Bill to be a part of their exclusive Futurist think tank community.
How to connect with Bill Jensen:
Resources Referenced in Podcast: 
Books Referenced in Podcast: 
Transcript:
You can go to the show notes to get more information about this interview and what we discussed in this episode. Click Here to download the full transcript.
About Bill Murphy
Bill Murphy is a world-renowned IT Security Expert dedicated to your success as an IT business leader.
Follow Bill on LinkedIn and Twitter.
If you are interested in learning more about RedZone and our security expertise in particular related to Cloud and Email Security Kill Chain Strategy, Techniques, and Tactics you can email myteam@redzonetech.net.
Credits:
Music provided by Ben's Sound
Subscribe To Bill Murphy's RedZone Podcast