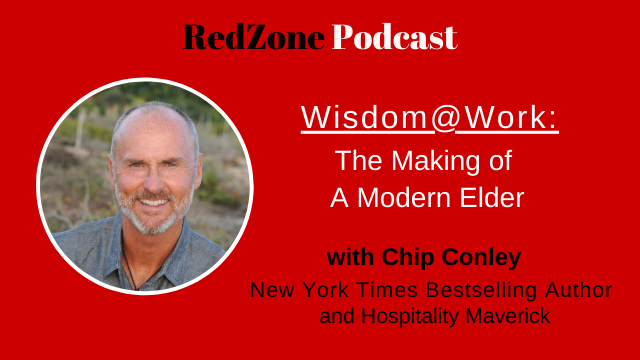 Today my guest is Chip Conley. Chip is a New York Times bestselling author and hospitality maverick. He is a recipient of hospitality's highest honor, the Pioneer Award, and was named the Most Innovative CEO in the San Francisco Bay Area by the San Francisco Business Times.
As a rebel entrepreneur, Chip has disrupted his favorite industry… twice. At age 26, the founder of Joie de Vivre Hospitality (JdV) where he took an inner-city motel and turned it into the second largest boutique hotel brand in America. He sold JdV after running it as CEO for 24 years.
Soon the young founders of Airbnb asked him to help transform their promising start-up into the world's leading hospitality brand. In four years as Head of Global Hospitality & Strategy, Chip taught his award-winning methods to hosts in close to 200 countries, and today he serves as the company's Strategic Advisor for Hospitality & Leadership.
His five books have made him a leading authority at the intersection of psychology and business. While writing his latest book, Wisdom@Work: The Making of A Modern Elder, Chip was inspired to build the world's first "midlife wisdom school," the Modern Elder Academy (MEA), where attendees learn how to repurpose a lifetime of experience for the modern workplace.
Chip holds a BA and an MBA from Stanford University, and an honorary doctorate in psychology from Saybrook University. He is an active mentor to six young CEO founders in the hospitality/tech world and serves on the board of Encore. org and the advisory board for the Stanford Center for Longevity.
He believes curiosity is the elixir of life and started learning Spanish and surfing at age 58.
In my conversation with Chip, you will hear stories about experiences that taught him to understand the difference between knowledge and wisdom. In an age where the world is changing faster, people are living longer, and power tends to be moving younger and at the age of 59, he shares his vision and award-winning methods around building teams aligned with a different kind of diversity and creating effective business culture including a new view of mentoring.
Listen to this podcast to learn about how you can disrupt your thinking and learn how to make more meaningful contributions in your lives and careers during the later period of life.
Click here for the Full Transcript
How to get in touch with Chip Conley:
Books:
References Mentioned in Podcast:
Love this episode? Leave a Review 
Share it on your LinkedIn feed.
If you haven't already, please make sure you leave us a review on iTunes.
About Bill Murphy
Bill Murphy is a world-renowned IT Security Expert dedicated to your success as an IT business leader. 
Connect With Us On Social Media
Connect with Bill on LinkedIn.
Instagram
Twitter
Facebook
Join The CIO Innovation Mastermind Community
We invite the top 20% of Business IT Leaders for my CIO Innovation Mastermind Events group to participate in monthly discussions on things like VR, AI, and other disruptive & emerging technologies. If you want to become a member, email Chief of Staff, Jamie Luber Jluber@redzonetech.net for more information.
Subscribe To Bill Murphy's RedZone Podcast