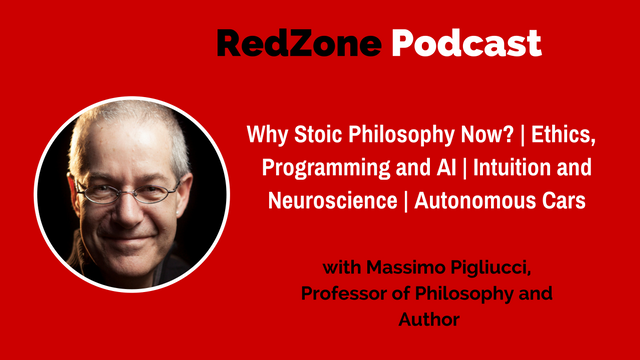 Massimo Pigliucci has a Doctorate in Genetics from the University of Ferrara (Italy), a PhD in Evolutionary Biology from the University of Connecticut, and a PhD in Philosophy from the University of Tennessee.
He has done post-doctoral research in evolutionary ecology at Brown University and is currently the K.D. Irani Professor of Philosophy at the City College of New York.
His research interests include the philosophy of biology, the relationship between science and philosophy, the nature of pseudoscience, and the practical philosophy of Stoicism. Prof. Pigliucci has been elected fellow of the American Association for the Advancement of Science.
Download the Full Transcript>>
In the area of public outreach, Prof. Pigliucci has published in national outlets such as the New York Times, Philosophy Now and The Philosopher's Magazine among others. I have linked in the show notes to a great article he wrote recently in the New York times.
Pigliucci publishes two blogs: Plato's Footnote (platofootnote.org), on general philosophy, and How to Be a Stoic (howtobeastoic.org), on his personal exploration of Stoicism as practical philosophy.
At last count, Prof. Pigliucci has published 146 technical papers in science and philosophy. He is also the author or editor of 10 technical and public outreach books, most recently of Answers for Aristotle: How Science and Philosophy Can Lead Us to a More Meaningful Life (Basic Books) Philosophy of Pseudoscience: Reconsidering the Demarcation Problem (University of Chicago Press), co-edited with Maarten Boudry. Other books include Answers for Aristotle: How Science and Philosophy Can Lead Us to a More Meaningful Life (Basic Books) and Nonsense on Stilts: How to Tell Science from Bunk (University of Chicago Press).
We explored quite a few topics on Ethics and AI, Types of Ethical Philosophies, the difficulty of programming ethics, stoicism.
I also asked him how to pose great questions to stir great conversation at the table with my kids…
There is a bunch of resources that we discussed. Check them out on the redzonetech.net.
Major Take-Aways From This Episode:
3 Major Types of Ethical Philosophies.
Ancient Virtue Ethics and Philippa Foot .The answer is always well it depends, what would a good person do? Human judgment is needed + nuance.
Modern Kantian (Started by Immanuel Kant) Deontological Ethics Rule-based ethics.
Modern John Stuart Mill's Utilitarianism Ethics is whatever increases the happiness of the largest number of people.
Why there is no such thing as Intuition and how understanding Intuition and Science can make you aware of how to make yourself better as a person and leader.
3 Steps to augmenting intuition using Stoicism.
AI vs. Smart Intelligence versus consciousness

Trolley dilemma;
Throw-man-off-bridge dilemma;
Autonomous cars (programming a car to avoid a human being).

The different types of philosophy.
Kids and Philosophy resources to get your kids into good dinner table debates.
The Stoic Philosophy between (preferences and desires) and examples.
Skill acquisition and developing expertise using Stoic Philosophy.
Types of Philosophy of Science (Mathematics, Logic, Stoic). The role of Logic.
Why Stoicism is gaining popularity.
Stoicism for kids
Ways to connect with Massimo Pigliucci:
Website:
Teachings, event and news updates
Podcast:
Rationally Speaking (archives)
Books and Publications: 
Video Resources:
Resources Mentioned:
Kids Philosophy Resources:
Other Resources:
Love this episode? Leave a Review 
Share it on your LinkedIn feed.
If you haven't already, please make sure you leave us a review on iTunes.
About Bill Murphy
Bill Murphy is a world-renowned IT Security Expert dedicated to your success as an IT business leader. 
Connect With Us On Social Media
Connect with Bill on LinkedIn.
Instagram
Twitter
Facebook
Join The CIO Innovation Mastermind Community
We invite the top 20% of Business IT Leaders for my CIO Innovation Mastermind Events group to participate in monthly discussions on things like VR, AI, and other disruptive & emerging technologies. If you want to become a member, email Chief of Staff, Jamie Luber Jluber@redzonetech.net for more information.
Subscribe To Bill Murphy's RedZone Podcast