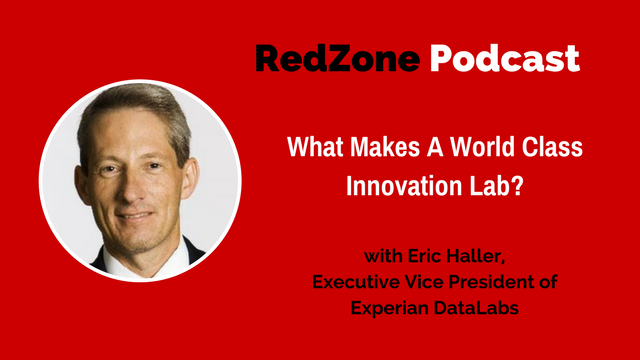 I am excited to share with you my conversation with Eric Haller as this is the first time I have had someone on the show that is in charge of a major innovation lab so our conversation will give you a window of visibility into several areas.
Major Take-Aways From This Episode:
Why he believes that "Ruthless Competency Wins".
Innovation is more powerful when linked to a higher purpose.
Managing an innovation portfolio and the development of the Intellectual property comes out of these efforts.
The organizational structure he reports to.
The culture of Experian from the types of people Eric hires as well as the culture of the Experian business as it supports the development efforts of the Innovation Lab.
LDA – Machine Learning Techniques.
Unsupervised and supervised Machine Learning.

Unsupervised is based on recognizing patterns.
Supervised – modelling known outcomes.
Download the Full Transcript>>
About Eric Haller
Eric Haller is the Executive Vice President of Experian DataLabs. Experian DataLabs is responsible for developing innovative products generated from break-through experimentation leveraging machine learning and data assets from a variety of sources.  He led the creation of labs in the US, UK & Brazil that support research & development initiatives across the Experian enterprise.  New products developed in the labs cover mobile, payments, consumer & commercial credit, fraud, targeted marketing & healthcare.   Prior to Experian, Eric was responsible for new products with Sequoia Capital backed Green Dot where he created and brought to market the first credit card a consumer could purchase off of a j-hook in a retailer.  Eric also co-founded identity fraud detection business iDawg which was later renamed ID Analytics.  ID Analytics was acquired by LifeLock which is now part of Symantec.  Other roles held by Eric includes Chief Marketing Officer of the first publicly traded machine learning company, HNC Software (acquired by FICO) and executive roles with Visa & MasterCard. 
How to get in touch with Eric Haller:
Key Resources:
Love this episode? Leave a Review 
Share it on your LinkedIn feed.
If you haven't already, please make sure you leave us a review on iTunes.
About Bill Murphy
Bill Murphy is a world-renowned IT Security Expert dedicated to your success as an IT business leader. 
Connect With Us On Social Media
Connect with Bill on LinkedIn.
Instagram
Twitter
Facebook
Join The CIO Innovation Mastermind Community
We invite the top 20% of Business IT Leaders for my CIO Innovation Mastermind Events group to participate in monthly discussions on things like VR, AI, and other disruptive & emerging technologies. If you want to become a member, email Chief of Staff, Jamie Luber Jluber@redzonetech.net for more information.
Subscribe To Bill Murphy's RedZone Podcast