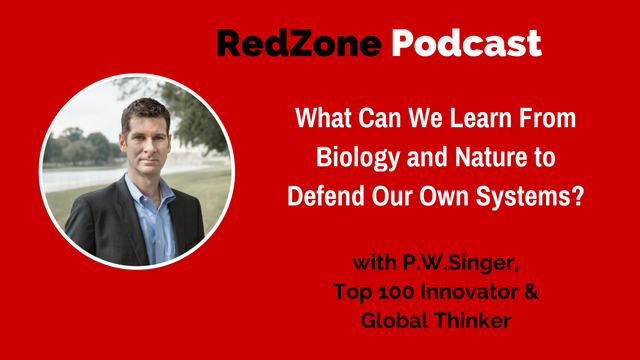 There was literally too much ground to cover with Peter W. Singer. He was one of these interviews where you just have to let him run because he has so much to say. His knowledge and experience are too wide to cover in a short hour, but here are some key takeaways that you will learn when you listen.
Major Take-Aways From This Episode:
He is not a doomsday figure, but one that seeks to find alternatives, explain, and develop context to the changes that are impacting our lives.
He was on a research project that asked 60 people what are the 5 trends that are of the same magnitude the release of computer in 1980:
Hardware – Robots, autonomous vehicles
Software – IoT, Big Data, AI
Waveware – Energy Sources, solar, lasers
Hardware – Additive printing and manufacturing, 3d, bits to atoms
Wetware – human performance enhancing technology
Download the Full Transcript>>
Bio science is impacting technological breakthroughs faster than Moore's law on the computer side. These breakthroughs are coming in endurance, cognition, concentration and will impact everything from classrooms to high performance executive functioning.
The Biological Metaphor for Security is huge. I have been using it for a while to compare tech security to how nature secures herself from threats. What can we learn from nature in order to defend our systems:
Nature has designed resilient systems;
Nature has natural defenses all working in unison;
Public and private sector interaction;
No one action can do it all;
Attitude of The British =  "Keep Calm and Carry On"
About Peter W. Singer:
Peter Warren Singer is a Strategist and Senior Fellow at the New America Foundation, the author of multiple award-winning books, and a contributing editor at Popular Science. He has been named by the Smithsonian Institution-National Portrait Gallery as one of the 100 "leading innovators in the nation," by Defense News as one of the 100 most influential people in defense issues, by Onalytica social media data analysis as one of the ten most influential voices in the world on cybersecurity, and by Foreign Policy to their Top 100 Global Thinkers List, of the people whose ideas most influenced the world that year.
Described in the Wall Street Journal as "the premier futurist in the national-security environment," Dr. Singer is considered one of the world's leading experts on changes in 21st century warfare. He has consulted for the US Military, Defense Intelligence Agency, and FBI, as well as advised a range of entertainment programs, including for Warner Brothers, Dreamworks, Universal, HBO, Discovery, History Channel, and the video game series Call of Duty, the best-selling entertainment project in history. He served as coordinator of the Obama-08 campaign's defense policy task force and was named by the President to the US Military's Transformation Advisory Group. He has provided commentary on security issues for nearly every major TV and radio outlet, including ABC, Al Jazeera, BBC, CBS, CNN, FOX, NPR, and the NBC Today Show. In addition to his work on conflict issues, Singer is a member of the State Department's Advisory Committee on International Communications and Information Policy. In the entertainment sector, he has received awards/support from the Tribeca Film Institute, Sloan Filmmakers Fund, Film Independent, and FAST Track at the L.A. Film Festival.
How to get in touch with Peter W. Singer:
Website:
Books:
Publications:
Other Resources:
Love this episode? Leave a Review 
Share it on your LinkedIn feed.
If you haven't already, please make sure you leave us a review on iTunes.
About Bill Murphy
Bill Murphy is a world-renowned IT Security Expert dedicated to your success as an IT business leader. 
Connect With Us On Social Media
Connect with Bill on LinkedIn.
Instagram
Twitter
Facebook
Join The CIO Innovation Mastermind Community
We invite the top 20% of Business IT Leaders for my CIO Innovation Mastermind Events group to participate in monthly discussions on things like VR, AI, and other disruptive & emerging technologies. If you want to become a member, email Chief of Staff, Jamie Luber Jluber@redzonetech.net for more information.
Subscribe To Bill Murphy's RedZone Podcast