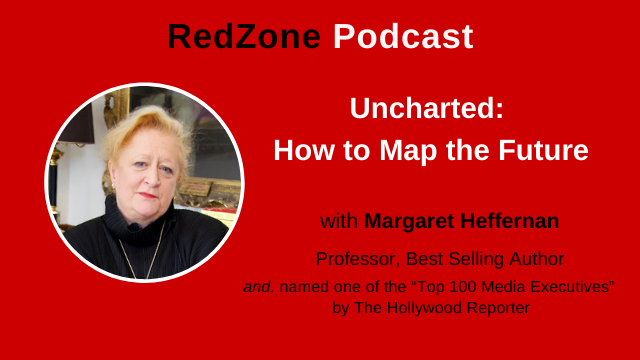 On the show today, Margaret Heffernan, serial entrepreneur, author and named one of the "Top 100 Media Executives" by The Hollywood Reporter, shows us how globalization and pervasive communication technologies have moved our world from one that was complicated to one that is highly complex and much less predictable.
To put it lightly, this change Impacts business where even small events can have a large impact. So, from a leadership perspective, how can you prepare for how to think' in this new emerging world?
Margaret and I answer this question, share stories and discuss how leaders can develop a robust, resilient mindset to create community the center of success.
The recent pandemic has proven that this robust, resilient, and innovative thinking, and accepting complexity, is necessary for IT leaders to survive the unpredictability of this moment, tomorrow, and beyond.
Margaret Heffernan is the acclaimed author of six books. Her third book, Willful Blindness: Why We Ignore the Obvious at our Peril, was named one of the most important business books of the decade by the Financial Times.
She was also awarded the Transmission Prize for her following book, A Bigger Prize: Why Competition isn't Everything and How We Do Better. Her TED talks have been seen by over 11 million people around the globe; and her new book, Uncharted: How to Map the Future, to be published in the U.S. on September 8, 2020, looks at the many diverse reasons why complexity is here to stay.
This is an amazingly relevant conversation that you just don't want to miss.
.Here are some of things that you will learn in this podcast episode:
Why is the world becoming harder to forecast?
What's the difference between a complicated vs. a complex environment?
Why is it harder to lead in a complex world?
What will the strategic requirements be to restart your workforce?
What is 'robust thinking' and how does it relate to resilience?
Why is it so important for organizations to take care of, and cultivate their unique ecosystem?
Why is it important for organizations to remember that people are part of their infrastructure?
Is efficiency and 'running lean' always the best choice for an organization?
How to Connect with Margaret Heffernan:
Books written by Margaret Heffernan:
Other References from the Podcast:
For the full transcript of this episode, click here.
Love this episode? Leave a Review 
Share it on your LinkedIn feed.
If you haven't already, please make sure you leave us a review on iTunes.
About Bill Murphy
Bill Murphy is a world-renowned IT Security Expert dedicated to your success as an IT business leader. 
Connect With Us On Social Media
Connect with Bill on LinkedIn.
Instagram
Twitter
Facebook
Join The CIO Innovation Mastermind Community
We invite the top 20% of Business IT Leaders for my CIO Innovation Mastermind Events group to participate in monthly discussions on things like VR, AI, and other disruptive & emerging technologies. If you want to become a member, email Chief of Staff, Jamie Luber Jluber@redzonetech.net for more information.
Subscribe To Bill Murphy's RedZone Podcast