Joe Topinka is at the pinnacle of the CIO profession. He is at the top 1% in the field. He loves to teach, mentor, is an author, Entrepreneur and a current world class CIO with SnapAV.
What are the two things he would immediately give as new advice to a CIO who wanted to be a business technology leader?
Get a list of the portfolio of strategic imperatives – match this to the projects that you are being asked to do. Find convergence!
Spend time with external customers. Visit and listen to them.
Are You Perceived as a Doormat? An Order Taker?
Joe discusses and emphasizes two items that will change this perception: (Projects and Investment Scoring)
Projects: Move away from red, yellow, green project reporting to the

 

following
Investment Scoring

 

Methodology
Interview Highlights – What you will learn
What makes the CIO be perceived as a Doormat
What makes the CIO be perceived as an Order Taker
Why Ditch Alignment Language
Who has the "last loudest mouth"? You must teach end-users not to BMW – (Bitch Moan and Whine)
You can partner with the business in all three areas: a) bring results to the top-line b) bottom line c) reduce risk
The Two Best Ways to Immediately Add Value to the Business
How Converged Organizations Drive 4x More Profit
The New Language for the CIO, "Words Really Matter"
How perception of stress can lower your stress level.

Don't fight it. Consider it sport. Look at it as a fun challenge.

What would Joe put on a billboard if he could place it in every US city? "Become a Business technology Leader"
What is Joe World Class at? A Business Technology Leader, Coach, Mentor + Leader

Recognized as a game-changing career CIO, Joe's IT Business Partner Program™ has driven exponential business results consistently across industries by bridging the chasm between business stakeholders and IT organizations. Joe Believes that when you create a trusting environment and empower people they deliver the best possible results. That philosophy has helped the companies that he's led achieve great results and has enabled career growth for his colleagues. Joe's proprietary Business Partner Program demystifies IT for the C-Suite and achieves business growth through:
CONVERGED IT – business stakeholders and IT leaders are intertwined and inseparable
MOVING BEYOND ALIGNMENT – C-Suite and IT leadership: thinking + acting + achieving together
OUTSIDE IN THINKING – Getting immersed in the customer's environment to make it easy for them to love what your company does
Joe's Latest Book (To Order)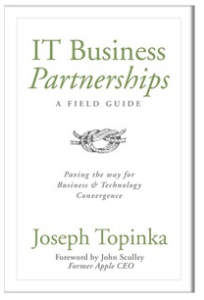 Chapter Summary (To Order)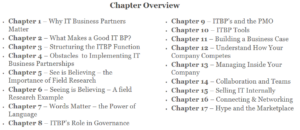 Resources Mentioned
Joe's Favorite Books
Joe can be found
Love this episode? Leave a Review
Share it on your LinkedIn feed.
If you haven't already, please make sure you leave us a review on iTunes.
About Bill Murphy
Bill Murphy is a world-renowned IT Security Expert dedicated to your success as an IT business leader. 
Connect With Us On Social Media
Connect with Bill on LinkedIn.
Instagram
Twitter
Facebook
Join The CIO Innovation Mastermind Community
We invite the top 20% of Business IT Leaders for my CIO Innovation Mastermind Events group to participate in monthly discussions on things like VR, AI, and other disruptive & emerging technologies. If you want to become a member, email Chief of Staff, Jamie Luber Jluber@redzonetech.net for more information.
Subscribe To Bill Murphy's RedZone Podcast