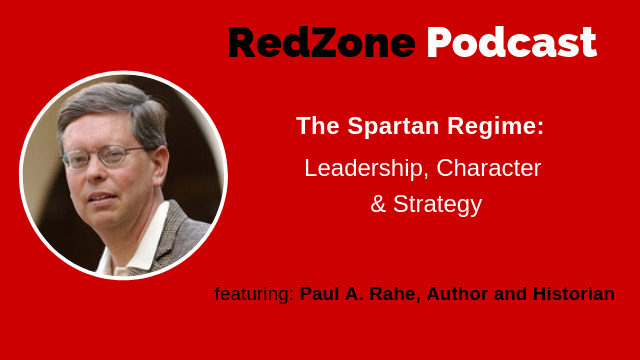 First, an interesting coincidence I want to share. It's middle-evening on Friday here in the Poconos, Pennsylvania where I'm getting ready to participate in a race tomorrow morning at 7:30 am. From the starting line, I'm going to race down the mountain in a Spartan race. It's an obstacle course Spartan race that I've done several times. It's my big challenge of the year.
The irony is that I have on my Podcast today, an expert in ancient Greece. His name is Paul Rahe. Paul has written a trilogy of books on Sparta and the Spartans. The third volume being released in a few weeks. You'll find a link to it on the podcast notes page along with the other two books in this trilogy. I've read these books, which are fantastic, and I'm endlessly fascinated with Spartans for a couple of reasons. I've always been fascinated with the Samurai, the Comanche, the Mongols, the Knights, etc. I just love these classic cultures and I think it's because there's a heroic myth. There's a heroic part in all of us that's symbolized by these cultures. The Spartans stand out for this and I really wanted to get into:
What is the history and what does a true historian say about Sparta and the Spartans?
What is the research that's been going on? Why have the legends of the Spartans persisted for 1,500 years?
What can we learn from them – as people, as a culture?
We are 250 years into this great American experiment, and the Spartans lasted about 400 years. What made them so dominant, and then, why did they fail?
Paul and I talk about the strengths of the Spartans, their innovation on the battlefield and how they actually fought using certain formations and such. The discomfort of how they raised their boys and forced them to become these fearsome warriors and leaders of the world and why they failed. How did the innovation that the Spartans were known for on the battlefield decline as they were innovated around and out maneuvered?
Now, we're in the nuclear age, but how did Spartan's battle differ from the Civil War, WWI and WWII and differ from other warriors in the classic age as well. Paul and I discuss that.
I find it interesting talking to scholars about their deep interests because I think there are lessons that we can all learn as leaders. If you take a step back and peer into the past, there are lessons there that we can learn.
I'm very excited about this episode, it's very appropriate for me, and I know you're going to find this very, very interesting.
With that, I want to introduce you to my great conversation with historian, Paul Rahe.
Download the Full Transcript>>
If you are a leader today you will like this Podcast for the following reasons:
It will dispel myths surrounding the Spartans
You will learn about the role discomfort played in raising Spartan boys
How the Spartans were disrupted by battlefield innovation
Why no one develops movies or books about Athens, but instead focus on Spartans
How warriors were killed in classic-period warfare
Four Main Strengths that made Spartans so fearsome:

 

Endurance, Strength, Mobility, and Prestige

 

(or I would say, reputation)
Paul A. Rahe holds The Charles O. Lee and Louise K. Lee Chair in the Western Heritage at Hillsdale College, where he is Professor of History. He majored in History, the Arts and Letters at Yale University, read Litterae Humaniores at Oxford University's Wadham College on a Rhodes Scholarship, and then returned to Yale to do his PhD in ancient Greek history under the direction of Donald Kagan.
He has been awarded fellowships by the Center for Hellenic Studies, The National Humanities Center, the Institute of Current World Affairs, the John M. Olin Foundation, the Center for the History of Freedom at Washington University, the National Endowment for the Humanities, the Woodrow Wilson International Center for Scholars, Clair Hall at Cambridge University, All Souls College at Oxford University, The American Academy in Berlin, the Social Philosophy and Policy Center at Bowling Green University, and the Hoover Institution. In 2006, the French Historical Society awarded him the Koren Prize for the Best Article Published in French History in 2005.
He is very excited about his newest book, Sparta's First Attic War: The Grand Strategy of Classical Sparta, 478-446 B.C., a companion volume to The Spartan Regime: It's Character, Origins, and Grand Strategy; and The Grand Strategy of Classical Sparta: The Persian Challenge, that explores the collapse of the Spartan Athenian alliance, is due to be released on August 6, 2019.
How to get in touch with Paul Rahe:
Key Resources + Links:
Books:
New:   Sparta's First Attic War: The Grand Strategy of Classical Sparta, 478-446 B.C., a companion volume to The Spartan Regime and The Grand Strategy of Classical Sparta, Paul A. Rahe, Yale University Press, due to be released August 6, 2019.
Articles on Blog:
Videos on Blog:
Love this episode? Leave a Review 
Share it on your LinkedIn feed.
If you haven't already, please make sure you leave us a review on iTunes.
About Bill Murphy
Bill Murphy is a world-renowned IT Security Expert dedicated to your success as an IT business leader. 
Connect With Us On Social Media
Connect with Bill on LinkedIn.
Instagram
Twitter
Facebook
Join The CIO Innovation Mastermind Community
We invite the top 20% of Business IT Leaders for my CIO Innovation Mastermind Events group to participate in monthly discussions on things like VR, AI, and other disruptive & emerging technologies. If you want to become a member, email Chief of Staff, Jamie Luber Jluber@redzonetech.net for more information.
Subscribe To Bill Murphy's RedZone Podcast