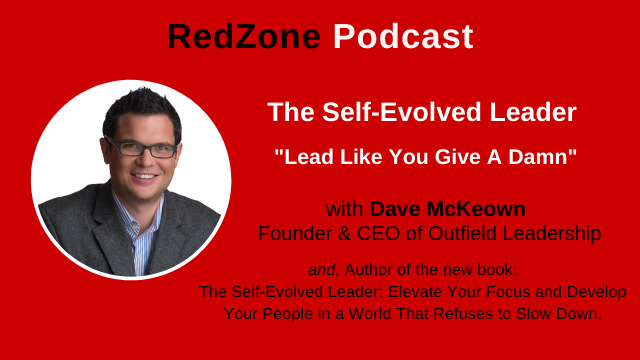 As leaders in today's unprecedented time of disruption, we are being forced to make critical decisions based on fear and the unknown.
My guest today, Dave McKeown, is here to teach us how, you, as leaders can achieve your compelling vision. How you can strengthen communication and accountability plans even while facing evolving conditions in an environment where you have little control.
Dave is the Founder and CEO of Outfield Leadership, and author of the new book, The Self-Evolved Leader: Elevate Your Focus and Develop Your People in a World That Refuses to Slow Down.
In this podcast episode, Dave and I share insights on disruption and how leaders can focus on the short-term, high-impact goals to achieve long term vision.
Disruption has a way of bringing things into complete focus because we need to get things done with the fewest amount of resources. Organizations and leaders must ask the right questions, take a step back and look at what things they can to maintain alignment with revenue while adding value in that process.
When you get that right, that's when you get true alignment in your people, and in your teams because they can see a clear correlation between what they do every day and where your business is going.
Another great leadership strategy Dave shares is collective capabilities, bringing together everyone's collective consciousness and knowledge to increase the level of what we know, exponentially. This can be the difference between emerging from this event in a successful way with some momentum behind you, or emerging from this with a business that's no longer valid.
I'm excited for you to tune in to this compelling interview.
Here are some questions answered in this podcast
What new leadership models are emerging during this unprecedented time of crisis?
What is the difference between bravery and heroic leadership?
How can a leader encourage collaboration across his teams in the midst of uncertainty?
How can leaders achieve more with less resources?
How does working with fewer resources bring clarity within an organization?
How do times of disruption present a significant opportunity for change within an organization?
Why is the decision making process more scalable when it's not dependent on only one individual?
How does using a 'collective capabilities' approach help navigate uncertainty more quickly?
Why is a good 'cultural fit' one of the greatest indicators of an employee's success within a company?
Emerging from this crisis, will there be a greater sense of humanity in leadership?
How can leaders shift their focus between short, medium and long-term goals?
Books Published:
The Self-Evolved Leader: Elevate Your Focus and Develop Your People in a World That Refuses to Slow Down, by Dave McKeown. Published by Greenleaf Book Group Press, January 2020.
How to Connect with this Guest:
For the full transcript of this episode, click here.
Leave a Review
Love this episode? Leave a Review 
Share it on your LinkedIn feed.
If you haven't already, please make sure you leave us a review on iTunes.
About Bill Murphy
Bill Murphy is a world-renowned IT Security Expert dedicated to your success as an IT business leader. 
Connect With Us On Social Media
Connect with Bill on LinkedIn | Instagram | Twitter | Facebook
Join The CIO Innovation Mastermind Community
We invite the top 20% of Business IT Leaders for my CIO Innovation Mastermind Events group to participate in monthly discussions on things like VR, AI, and other disruptive & emerging technologies. If you want to become a member, email Chief of Staff, Jamie Luber Jluber@redzonetech.net for more information.
Subscribe To Bill Murphy's RedZone Podcast