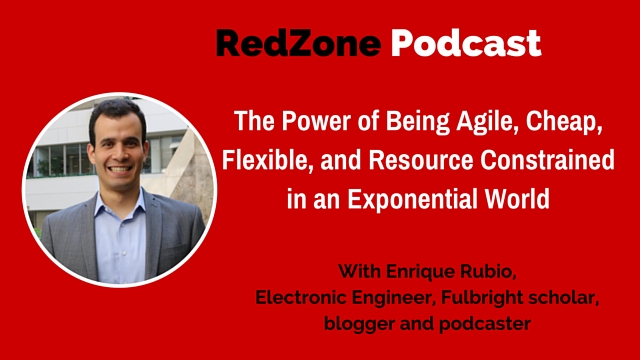 Enrique Rubio and I share a favorite quote:
"We can't solve problems by using the same kind of thinking we used when we created them," Albert Einstein.
I was interested to bring Enrique onto the show because he has great depth of knowledge in understanding perplexing challenge unique to our generation.
How do we in the Western World who live in a World of Abundance solve complex problems in the developing world? How do we deploy exponential technologies in a sustainable way that makes the lives of others better? How do we approach solving complex problems?
Download the Full Transcript>>
Enrique Rubio is an Electronic Engineer and a Fulbright scholar with an Executive Master's Degree in Public Administration from Syracuse University. Enrique is passionate about leadership, business and social entrepreneurship, curiosity, creativity and innovation. He is a blogger and podcaster, and also a competitive ultrarunner.
Major take-aways from this episode are:
1. Design Thinking and how Design Thinking and collaboration is used to solve complex problems.
2. The problem with heavy strategic and design versus the advantage of resource constraints.
3. The power of experiments. Cheap, flexible, nimble experiments.
4. Stories about Entrepreneurship, Nomads, The Himalayas and Solar Panels.
5. What is a Social Entrepreneur?
6. The Power of Curiosity and being "open-minded.
7. Understanding that "Fearing Less" is our primary mission in order to develop better questions.
How to get in touch with Enrique Rubio:
Website:
Innovation for Development
Podcast:
Publications/ Interviews:
Resources Mentioned:
Books Mentioned:
Abundance Kotler, Diamandis
Exponential Organizations Salim Ismail
Love this episode? Leave a Review 
Share it on your LinkedIn feed.
If you haven't already, please make sure you leave us a review on iTunes.
About Bill Murphy
Bill Murphy is a world-renowned IT Security Expert dedicated to your success as an IT business leader. 
Connect With Us On Social Media
Connect with Bill on LinkedIn.
Instagram
Twitter
Facebook
Join The CIO Innovation Mastermind Community
We invite the top 20% of Business IT Leaders for my CIO Innovation Mastermind Events group to participate in monthly discussions on things like VR, AI, and other disruptive & emerging technologies. If you want to become a member, email Chief of Staff, Jamie Luber Jluber@redzonetech.net for more information.
Subscribe To Bill Murphy's RedZone Podcast