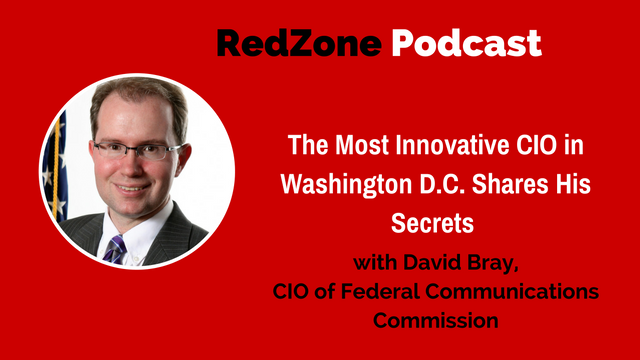 My guest for this episode is David Bray, named one of the 24 Americans Changing the World under 40 by Business Insider.
Dr. David A. Bray, who I believe to be the most innovative CIO in Washington, shares his secrets in this episode. He has been leading the FCC's IT transformation since 2013 through the efforts of a team of positive "change agents." He has transformed the FCC's IT legacy from more than 207 different systems to award-winning technology in less than two years.
He also was selected to be one of the "Fedscoop 50" for Leadership in 2014.
FCW's "Fed 100" winners in 2015, and the recipient of the Armed Forces Communications and Electronic Association's Outstanding Achievement Award for Civilian Government in 2015.
Download the Full Transcript>>
David began working for the U.S. government at age 15 on computer simulations at a Department of Energy facility. In later roles he designed new telemedicine interfaces and space-based forest fire forecasting prototypes for the Department of Defense.
He then joined as IT Chief for the Bioterrorism Preparedness and Response Program at the U.S. Centers for Disease Control and Prevention, leading the program's technology response to during 9/11, anthrax in 2001, Severe Acute Respiratory System in 2003, and other international public health emergencies.
He later completed a PhD in Information Systems from Emory University and two post-doctoral associateships at MIT and Harvard in 2008.
David volunteered in 2009 to deploy to Afghanistan to help "think differently" on military and humanitarian issues and in 2010 became a Senior National Intelligence Service Executive advocating for increased information interoperability, cybersecurity, and protection of civil liberties.
He received both the Arthur S. Flemming Award and Roger W. Jones Award for Executive Leadership in 2013. He also was chosen to be an Eisenhower Fellow to meet with leaders in Taiwan and Australia on multisector cyber strategies for the "Internet of Everything" in 2015.
He also has been named the "Most Social CIO" globally in 2015 by both Forbes Magazine and the Huffington-Post, tweeting as @fcc_cio.
Major Take-Aways From This Episode:
David's unique perspective on leadership;
His approach to experiments and risk;
How he curates ideas in his organization (portfolio effect);
How he brings outside innovative (silicon valley esque) thinking into the organization;
His approach to being a VC internal venture capitalist;
His reading recommendations.
How to get in touch with David Bray
Publications:
David's Reading Recommendations:
David's Leadership Mentors:
Love this episode? Leave a Review 
Share it on your LinkedIn feed.
If you haven't already, please make sure you leave us a review on iTunes.
About Bill Murphy
Bill Murphy is a world-renowned IT Security Expert dedicated to your success as an IT business leader. 
Connect With Us On Social Media
Connect with Bill on LinkedIn.
Instagram
Twitter
Facebook
Join The CIO Innovation Mastermind Community
We invite the top 20% of Business IT Leaders for my CIO Innovation Mastermind Events group to participate in monthly discussions on things like VR, AI, and other disruptive & emerging technologies. If you want to become a member, email Chief of Staff, Jamie Luber Jluber@redzonetech.net for more information.
Subscribe To Bill Murphy's RedZone Podcast