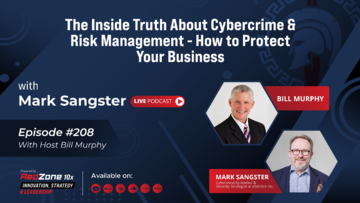 In Episode #208, Bill talks with Mark Sangster. Mark is the VP & Industry Security Strategist at eSentire Inc., an award-winning speaker, and the author of the new book, No Safe Harbor: The Inside Truth About Cybercrime and How To Protect Your Business.
As a CIO and Business IT Leader here are some wins you will get by listening:
– How remote work and employees bringing their office home have created new hurdles for IT leaders to deal with. (18:30)
– The root causes of cyberattacks and how bad actors are able to carry out such attacks as ransomware. (7:00)
– Why cybersecurity is not just an IT problem to fix and why it's a business risk to manage. (4:00)
– Why enterprises should create a risk registry to rank the risks they face. (21:00)
– Why compliance is not the same as security or privacy. (33:00)
– Why some companies are ill-prepared for cyberattacks and the importance of having measures in place to protect your data. (12:00)
– Why complacency and a set it and forget it mentality are dangerous things for a company to have when it comes to cybersecurity. (15:30)
– How much easier it is for a bad actor to virtually rob a bank rather than physically. (40:00)
– The reputational hit that companies take after data breaches and cyberattacks. (26:30)
– Why modern compliance often lags behind other aspects of the business. (37:00)
Mark Sangster is the Principal Evangelist and VP of Industry Security Strategist for eSentire Inc based in Ontario, Canada. He is an award-winning speaker at international conferences and on prestigious stages, including the Harvard Law School, and an author on various cybersecurity subjects.
Mark has a fascinating perspective on shifting risk trends, and his work has influenced industry thought-leaders. He is the go-to expert on data breaches, and his work has been featured in The Wall Street Journal and the Canadian Broadcast Corporation. Mark also hosts the Cyber Insider Podcast. He interviews experts from across various industries to explore data breach litigation, cyber insurance claims, crisis communication, the rise of gray zone threats, and the risks of interconnected technology.
He is a contributing author to several leading industry publications (CSO magazine, SC Magazine, LegalTech News), an invited speaker at 40+ conferences a year, and a regular guest on many well-respected podcasts.
His most recent book, No Safe Harbor: The Inside Truth About Cybercrime and How To Protect Your Business, tells the story of cybercrimes and cyber-attacks that never made the headlines but are equally important for companies to understand what they need to do to protect themselves.
How to connect with Mark Sangster:
Books referenced in podcast:
Articles referenced in podcast:
Transcript:
You can go to the show notes to get more information about this interview and what we discussed in this episode. Click Here to download the full transcript.
About Bill Murphy
Bill Murphy is a world-renowned IT Security Expert dedicated to your success as an IT business leader.
Follow Bill on LinkedIn and Twitter.
If you are interested in learning more about RedZone and our security expertise in particular related to Cloud and Email Security Kill Chain Strategy, Techniques, and Tactics you can email myteam@redzonetech.net.
Credits:
Music provided by Ben's Sound
Subscribe To Bill Murphy's RedZone Podcast