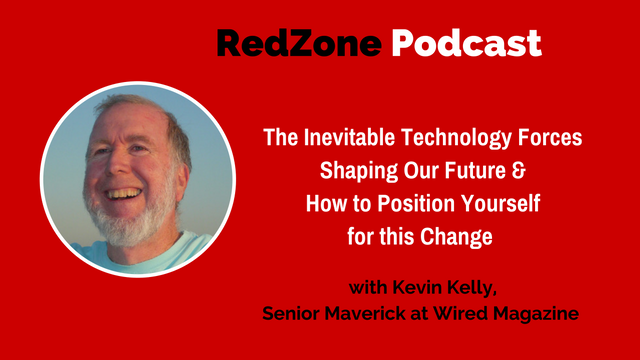 Kevin Kelly, I think, may be the smartest person in the world…and I am only half-joking. I have been deeply interested in his work, and his thinking has influenced mine.
His 2010 book What Technology Wants changed my perspective on Information Technology in 2010; his book Cool Tools is a compendium of the best tools cultivated from his years of research. Among other resources I like is his blog post 1000 True Fans; his latest book just released this summer titled The Inevitable; and his podcast interviews on London Real, Tim Ferriss, Lewis Howes, and Chase Jarvis.
I asked him to come onto the show to get into topics that I had not heard him dive into from the perspective that I was curious about… I know you will be too.
Download the Full Transcript>>
Major take aways from this episode are:
1. If you were the leader of a 1000 person company, what would you ask your direct 5 reports to do?
2. What skills are needed to teach kids to handle this new future in regards to learning and failure?
3. How Kevin Kelly would handle ethics and governance as we program Artificial Intelligence.
4. How humans will become more ethical and moral training AI.
5. Kevin's AI philosophy is very unique and will help you understand the role of AI working with other AIs.
6. His opinion on the difference between AI, Machine Learning, and Deep Learning.
7. The importance of being a newbie and an attitude of being a lifelong learner.
8. The difference between learning, how to learn versus finding how you learn that is unique to you.
9 . The skills enterprise leaders need to have in regards to how to fail.
10. The important skill of looking at the edges.
11. "In a world of abundance the only scarcity will be our attention," Herbert Simon.
About Kevin Kelly:
Kevin Kelly is Senior Maverick at Wired magazine. He co-founded Wired in 1993, and served as its Executive Editor for its first seven years. He is also founding editor and co-publisher of the popular Cool Tools website, which has been reviewing tools daily since 2003. From 1984-1990 Kelly was publisher and editor of the Whole Earth Review, a journal of unorthodox technical news. He co-founded the ongoing Hackers' Conference, and was involved with the launch of the WELL, a pioneering online service started in 1985. His books include the best-selling New Rules for the New Economy, the classic book on decentralized emergent systems, Out of Control, a graphic novel about robots and angels, The Silver Cord, an oversize catalog of the best of Cool Tools, and his summary theory of technology in What Technology Wants (2010). His new book for Viking/Penguin is called The Inevitable.
How to get in touch with Kevin Kelly:
Website:
Podcast:
Blog:
Books:
Key Resources:
Love this episode? Leave a Review 
Share it on your LinkedIn feed.
If you haven't already, please make sure you leave us a review on iTunes.
About Bill Murphy
Bill Murphy is a world-renowned IT Security Expert dedicated to your success as an IT business leader. 
Connect With Us On Social Media
Connect with Bill on LinkedIn.
Instagram
Twitter
Facebook
Join The CIO Innovation Mastermind Community
We invite the top 20% of Business IT Leaders for my CIO Innovation Mastermind Events group to participate in monthly discussions on things like VR, AI, and other disruptive & emerging technologies. If you want to become a member, email Chief of Staff, Jamie Luber Jluber@redzonetech.net for more information.
Subscribe To Bill Murphy's RedZone Podcast