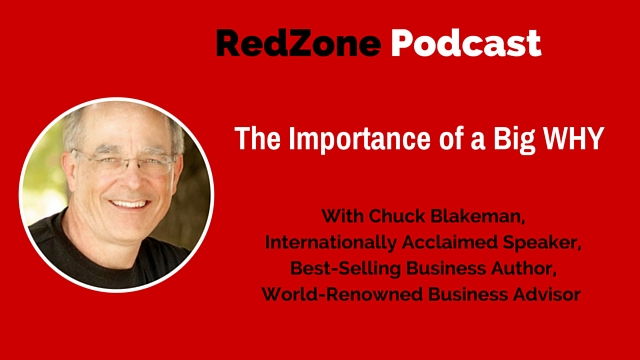 Chuck Blakeman is a successful entrepreneur, best-selling business author and world-renowned business advisor who has built ten businesses in seven industries on four continents, and now uses his experience to advise others. His company, Crankset Group, provides outcome-based mentoring and peer advisory for business leaders worldwide.
He has written two best-selling books titled Making Money is Killing Your Business and  Why Employees are Always a Bad idea which have both been #1 and top ten rated business books.
Chuck writes thought provoking books and blog posts. His writing, ideas and philosophy rattle my brain in a good way. I have provided links below to his published work online with New York Times, Entrepreneur Magazine, Success Magazine and my favorites, which are his articles on Inc. Magazine.
If you are an Entrepreneur or a Senior Leader you will find Chuck's message inspiriting and refreshing and relieving.
This is my second discussion with Chuck and I like him so much because he is a practitioner and not a theoretician. I think this is important for people owning, running and operating businesses.
Download the Full Transcript>>
Major take – aways from this episode are:
The Concept of

 

Freedom Mapping

 

and the importance of asking yourself "why" you are doing things.
The Formula for Success is Time + Money = Significance.
How to avoid being a hostage to your business.
Is there such a thing as work – life balance?
The tyranny of

 

urgent

 

versus

 

important.
The difference between "learning" and "education" for adults and why adults suck at education. The irony of this is that I was just listening to a Tony Robbins interview on Lewis Howes' Show (on Tony's Jet) where he said "the happiest people are lifetime learners"!
The importance of groups to support your growth. See Chuck's

 

3to5 Club
The importance of EQ – Emotional Intelligence.
The role of HR in the future.
What Chuck would tell his 30 year old self.
What his most gifted book is.
The importance of taking risks.
About Chuck
Chuck Blakeman is an internationally acclaimed speaker, best-selling business author, and world-renowned business advisor.
Chuck sold on of his businesses to the largest consumer fulfillment company in America and led three other $10-100 million companies. He presently leads the Crankset Group and a for-profit business based in Africa, focused on developing local economies to solve poverty.
Mr. Blakeman is a results leader with decades of experience leading companies in marketing, import/export, fulfillment, call centers, website development, printing and direct mail processing.
Some of Mr. Blakeman's customers have included Microsoft, Apple, Eli Lilly, TAP Pharmaceuticals, Sun Microsystems, Tyco Healthcare, Johns Manville and many more Fortune 5000s and smaller businesses.
He is a convention speaker, writer, and non-profit board member. Recent speaking appearances include Kenya, Canada, Ireland, New Zealand, and across the US. 100+ times a year. Recent print and online appearances include Inc. Magazine (regular contributor), Success Magazine, Entrepreneur Magazine, CNNMoney.com. He was recently cited in Dr. Stephen Covey's recent book, The 3d Alternative.
How to get in touch with Chuck Blakeman:
Websites:
Books:
Publications:
Videos:
Love this episode? Leave a Review 
Share it on your LinkedIn feed.
If you haven't already, please make sure you leave us a review on iTunes.
About Bill Murphy
Bill Murphy is a world-renowned IT Security Expert dedicated to your success as an IT business leader. 
Connect With Us On Social Media
Connect with Bill on LinkedIn.
Instagram
Twitter
Facebook
Join The CIO Innovation Mastermind Community
We invite the top 20% of Business IT Leaders for my CIO Innovation Mastermind Events group to participate in monthly discussions on things like VR, AI, and other disruptive & emerging technologies. If you want to become a member, email Chief of Staff, Jamie Luber Jluber@redzonetech.net for more information.
Subscribe To Bill Murphy's RedZone Podcast