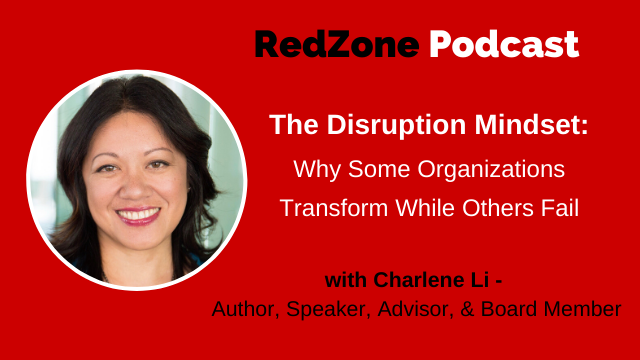 Today my guest is Charlene Li. Charlene is a graduate of Harvard and of Harvard Business School, she's been named one of the most creative people in business by Fast Company, and she's an expert in digital transformation and disruptive growth strategies. Charlene has just released a new book called, The Disruption Mindset: Why Some Organizations Transform Why Others Fail. Charlene is a founder of and a Senior Fellow at Altimeter, which is a Profit company. She is the author of five previous books including a New York Times bestseller, Open Leadership; and the co-author of the critically acclaimed book Groundswell.
I love how she explains that we've been approaching disruption backwards. In my conversation with her, we talk about how companies make disruption their goal, but they believe that if they develop the right innovation, they will disrupt the markets forever and drive the kind of growth worthy of what their Board of Directors wants. But, as Charlene explains to me that's not how disruption works.
Disruption doesn't create growth. Instead she talks about how growth creates disruption. I love how she hits it across the head when she says, growth is hard. She's not mincing words here. Disruptive growth is exponentially harder. It requires companies to make tough decisions in the face of daunting uncertainties and answer questions like, should we bet our company's future on the next generation customers or today's reliable ones? Should we abandon our current business model for an entirely new one?
Making these bold changes demands leadership and often massive cultural transformation. We talk about leadership, and that in this type of disruptive companies, strategy trumps everything and how we need to meet the future needs of our customers. That leadership requires a movement to drive and sustain. It requires consistency. You can't whiffle-waffle as a leader. She talks about the consistency of the best transformation leaders and culture, of course, culture.
We talk about culture, something she calls flux culture. Also, we discuss her concept of a dashboard. Many of you are digital leaders, but what do your dashboards look like? Charlene gets into specifics on what a true disruptive organization should have in there… the entire company is looking at it as it relates to their dashboard. You're going to love the envisioning exercise we talk about with envisioning your future customer.
I love to speak with book authors like Charlene because we're taking 30 years' worth of meeting some of the best, most transformative conversations and experiences, and distilling it into a book and a conversation.
Charlene and I discuss ten powerful stories, concepts, ideas and strategies from this amazing book.
Here are some of things that you will learn in this podcast episode:
Specific leadership strategies that Jeff Bezos deploys at Amazon which allows him to build and scale an enormous company.
The importance of a flux culture and its positive impact in a disruptive company.
An amazing example of envisioning future customers.
How one must lead moving forward in times of exponential change.
The power of Dashboards in disruptive and innovative companies.
The super power of disruption leaders to instill hope and confidence.
Disruption doesn't create growth. Growth creates disruption.
Innovative companies vs. disruptive companies
What is the role of the CIO moving forward?
Breakthrough growth shifts the balance of power and of established relationships.
Download the Full Transcript>>
About Charlene Li
For the past two decades, Charlene Li has been helping people see the future. She's the New York Times bestselling author of six books, including her newest release, The Disruption Mindset: Why Some Businesses Transform While Others Fail, and Open Leadership as well as co-author of the critically-acclaimed book, Groundswell.
Charlene is an entrepreneur who founded and ran Altimeter Group, a disruptive industry analyst firm that was acquired by Prophet in 2015. She continues working at Prophet as a Senior Fellow. She was also a vice president and principal analyst at Forrester Research, worked in online newspaper publishing, and was a consultant with Monitor Group.
With over 20 years of experience in tech and business, she has been a respected advisor to Fortune 500 companies on digital transformation and leadership. Charlene also serves on the regional board for YPO, a global network of CEOs.
Charlene is a sought after public speaker and has appeared at events ranging from TED and the World Business Forum to SxSW. She has appeared on 60 Minutes and PBS NewsHour, and is frequently quoted by The Wall Street Journal, The New York Times, USA Today, and The Associated Press.
Charlene was named one of the Top 50 Leadership Innovators by Inc., and one of the most creative people in business by Fast Company. Charlene graduated Magna cum Laude from Harvard College and received her MBA from Harvard Business School. She lives in San Francisco.
How to get in touch with Charlene Li
Key Resources Referenced:
This episode is sponsored by the CIO Innovation Forum, dedicated to Business Digital Leaders who want to be a part of 20% of the planet and help their businesses win with innovation and transformation.
Love this episode? Leave a Review 
Share it on your LinkedIn feed.
If you haven't already, please make sure you leave us a review on iTunes.
About Bill Murphy
Bill Murphy is a world-renowned IT Security Expert dedicated to your success as an IT business leader. 
Connect With Us On Social Media
Connect with Bill on LinkedIn.
Instagram
Twitter
Facebook
Join The CIO Innovation Mastermind Community
We invite the top 20% of Business IT Leaders for my CIO Innovation Mastermind Events group to participate in monthly discussions on things like VR, AI, and other disruptive & emerging technologies. If you want to become a member, email Chief of Staff, Jamie Luber Jluber@redzonetech.net for more information.
Subscribe To Bill Murphy's RedZone Podcast