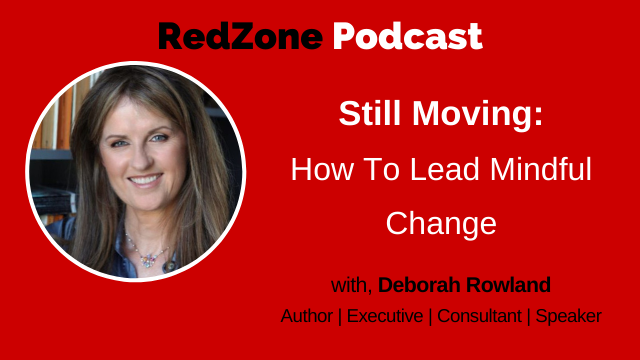 My guest today is Deborah Rowland, a leading thinker, speaker, writer, coach and practitioner in the leadership of large complex change. Deborah has devoted her 3-decade career to the study, practice, and dissemination of effective ways to lead true transformation that takes individuals, teams, organizations and indeed whole societal systems to a genuinely new place.
Working alongside CEOs and their Executive Teams to help them navigate large scale transformation efforts, and importantly, attend to their own leadership practice as part of that, Deborah has personally led change in major global organizations including Shell, Gucci Group, BBC Worldwide and PepsiCo.
In 2017, Deborah was named on Thinkers50 Radar as one of the generation of management thinkers changing the world of business. Her consulting firm, Still Moving, pioneered original research in the field, the latest efforts of which were accepted as a paper at the 2016 Academy of Management and at the 2019 European Academy of Management. I found her in a wonderful book called, The Chief Strategy Officer Playbook: How to Transform Strategies Into Great Results.
Deborah brings a unique combination of experience, insight and research to the leadership of change. Although there has been much research on the benefits of mindfulness to the individual, Deborah's research is original, focusing on the business impact. Her latest book, Still Moving: How to Lead Mindful Change, offers practical examples of how to bring a higher level of awareness into your company.
In addition to consulting, speaking and writing, Deborah has contributed to faculty teaching at Business Schools such as Henley Management College, Tuck, and Bath Management School.
Don't be confused about mindfulness – you don't have to be a meditation student or yoga instructor to understand it. Mindfulness is like a muscle that you build. It's a stake you put in the ground that you say, my reaction to events is more important than the event itself. Mindfulness requires skill and is worth knowing about and building it into your repertoire.
For now, if you want to explore Mindfulness in a new way, and if you want to learn from a high-level Master, this conversation is the perfect place to start.
As modern leaders in a fast paced and complex world you will learn: 
A mindful leader understands that stillness brings correct action and momentum
A mindful leader observes and in this process brings change
A mindful leader has difficult conversations and can make hard decisions
A mindful leader is aware and awake and is integrated
A mindful leader is better able to work with complexity because they will understand the whole
A mindful leader will be able to work with discomfort better
A mindful leader is more impactful to the business and those around them
A mindful leader is able to navigate organizational boundaries better
A mindful leader has discernment of mindless busy action
A mindful leader understands the imperative of wisdom
Books Published:
Resources Mentioned in Podcast:
This episode is sponsored by the CIO Innovation Forum, dedicated to Business Digital Leaders who want to be a part of 20% of the planet and help their businesses win with innovation and transformation.
Download the full transcript > >
Love this episode? Leave a Review 
Share it on your LinkedIn feed.
If you haven't already, please make sure you leave us a review on iTunes.
About Bill Murphy
Bill Murphy is a world-renowned IT Security Expert dedicated to your success as an IT business leader. 
Connect With Us On Social Media
Connect with Bill on LinkedIn.
Instagram
Twitter
Facebook
Join The CIO Innovation Mastermind Community
We invite the top 20% of Business IT Leaders for my CIO Innovation Mastermind Events group to participate in monthly discussions on things like VR, AI, and other disruptive & emerging technologies. If you want to become a member, email Chief of Staff, Jamie Luber Jluber@redzonetech.net for more information.
Subscribe To Bill Murphy's RedZone Podcast