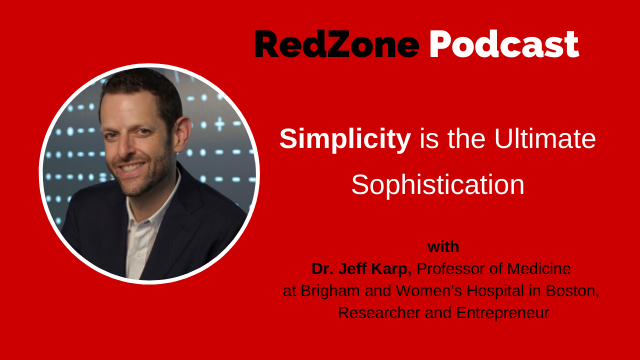 Today I have an amazing guest. His name is Dr. Jeff Karp and he is a Professor of Medicine at Brigham and Women's Hospital in Boston. He is also a Principal Faculty member at the Harvard Stem Cell Institute, and an affiliate faculty member at the Broad Institute and at the Harvard-MIT Division of Health Sciences and Technology.
I'm just getting warmed up, wait until you hear the rest of his background. This is a real special guy.
He works in the fields of drug delivery, medical devices, stem cell therapeutics, and tissue adhesives. He has published over 125 peer-reviewed papers, with more than 18,500 citations, and has given over 300 invited lectures. He has over 100 issued or pending national and international patents.
Several technologies developed in his lab have led to multiple products currently being funded, and he's launched seven companies that have raised over $300 million in funding. These technologies include high-tech skincare, tissue adhesives and 3D-printed biomedical devices, immunomodulation with biologically responsive materials. We talked about small molecule regenerative therapeutics with an initial target of hearing loss and other aging therapies; as well as stem cells, cannabinoid therapeutics, biomedical devices to improve child safety, needles that automatically stop when they reach their target, and a bio-engineered luminal coating for controlled GI targeting.
Dr. Karp has received over 50 awards and honors. He has been recognized by Boston Magazine as One of 11 Boston Doctors Making Medical Breakthroughs'; The Boston Business Journal as a Champion in Healthcare Innovation' and by MIT's Technology Review Magazine (TR35) as being one of the Top Innovators In The World with three members from his laboratory also receiving this award.
I spent a lot of time talking to Jeff about how he builds his teams and how he empowers them to take on these projects. What he's done is – he's bridged academia and entrepreneurship and, that's no small feat! I was interested to know – with the co-founding of six companies, how does he get research out into the world to really impact lives?
We also talked about mentor development. One of the biggest things that he targets is finding – and building mentors. He is always actively meeting people and he talks about this and why the power of meeting new people every two weeks. Another thing we talk about is reducing problems to their essence'. What I love is when I hear scientists talk about how they really place a lot of focus on this radical simplicity' and the art and discipline of reducing problems to their essence so they can solve problems in the useful, practical solutions to real-world problems.
This is a really, really fun interview with a world-impact leader in medicine. And bringing cutting edge therapies to market with a team. A team of people really dedicated to changing the world.
So, with this, I want to welcome you to my great conversation with Dr. Jeff Karp.
Download the Full Transcript>>
Ways to Connect with Dr. Jeff Karp
Resources Discussed in this Interview:
     TEDMED Talk – Insight Outside: Harnessing Nature's Secrets, February 19, 2015. Jeff Karp, bioengineer and Associate Professor at Brigham and Women's Hospital, Harvard Medical School, illuminates the art and science of developing medical tools, treatments, and technologies from solutions found in nature.
Love this episode? Leave a Review 
Share it on your LinkedIn feed.
If you haven't already, please make sure you leave us a review on iTunes.
About Bill Murphy
Bill Murphy is a world-renowned IT Security Expert dedicated to your success as an IT business leader. 
Connect With Us On Social Media
Connect with Bill on LinkedIn.
Instagram
Twitter
Facebook
Join The CIO Innovation Mastermind Community
We invite the top 20% of Business IT Leaders for my CIO Innovation Mastermind Events group to participate in monthly discussions on things like VR, AI, and other disruptive & emerging technologies. If you want to become a member, email Chief of Staff, Jamie Luber Jluber@redzonetech.net for more information.
Subscribe To Bill Murphy's RedZone Podcast