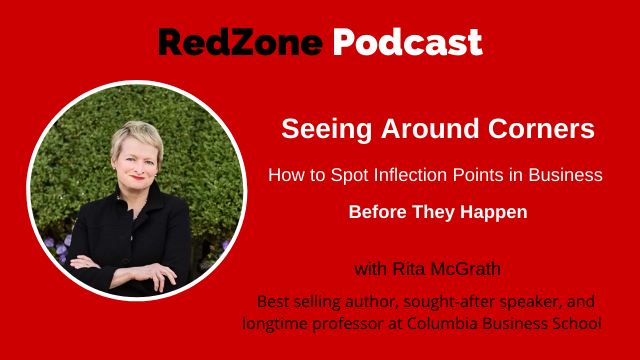 Today my guest is Rita McGrath. She is a best-selling author, sought-after speaker, and a longtime professor at Columbia Business School. She is widely recognized as a premier expert on strategy, innovation, entrepreneurship and growth during times of uncertainty.
Rita has received the #1 achievement award for strategy from the prestigious Thinkers50 and has been consistently named one of the world's Top 10 management thinkers in its bi-annual ranking. As a consultant to CEOs, her work has had a lasting impact on the strategy and growth programs of Fortune 500 companies worldwide.
Rita is a highly sought-after speaker at exclusive corporate events around the globe, such as the Global Peter Drucker Forum. She is also the author of several books, including the best-selling, The End of Competitive Advantage (Harvard Business Review Press, 2013). Her new book is, Seeing Around Corners: How to Spot Inflection Points in Business Before They Happen (Houghton Mifflin Harcourt, 2019). She has written three other books including, Discovery-Driven Growth: A Breakthrough Process to Reduce Risk and Seize Opportunity, cited by Clayton Christensen as creating one of the most important management ideas ever developed.
She received her PhD from the Wharton School (University of Pennsylvania) and has degrees with honors from Barnard College and the Columbia School of International and Public Affairs.
Here are some key items that you will learn about in this podcast episode:
How did Walmart innovate in response to a resistant culture?
How retail will rebound, i.e. the story of

 

Showfields.
Some practical ideas about How to See Around Corners.
Learn about Adobe's innovative strategy using the Red

 

Kickbox

 

Program.
What Rita means by 'Snow melts from the edge' and the imperative for leaders.
Learn what Rita considers to be her Superpower, and why.
How innovation proficiency defangs an organization's anti-bodies.
Personal inflection points and how to personally manage being an Innovation Leader.
Now, I want to introduce you to this amazing conversation with Rita McGrath.
Download the Full Transcript>>
Books and References:
Books:
Resources:
Amy C. Edmondson

 

is an American scholar of leadership, teaming, and organizational learning who studies psychological safety in organizations and teams. Click on the link to see more from Wikipedia.
acqui-hire: According to Wikipedia, acquihire is the process of acquiring a company primarily to recruit its employees, rather than its products or services. Click on the term for more details.
The Chief Strategy Officer Playbook:

 

How to Transform Strategies Into Great Results, Thinkers50 Books. You can download this as a pdf for free.
How to Connect with Rita McGrath
This episode is sponsored by the CIO Innovation Forum, dedicated to Business Digital Leaders who want to be a part of 20% of the planet and help their businesses win with innovation and transformation.
Love this episode? Leave a Review 
Share it on your LinkedIn feed.
If you haven't already, please make sure you leave us a review on iTunes.
About Bill Murphy
Bill Murphy is a world-renowned IT Security Expert dedicated to your success as an IT business leader. 
Connect With Us On Social Media
Connect with Bill on LinkedIn.
Instagram
Twitter
Facebook
Join The CIO Innovation Mastermind Community
We invite the top 20% of Business IT Leaders for my CIO Innovation Mastermind Events group to participate in monthly discussions on things like VR, AI, and other disruptive & emerging technologies. If you want to become a member, email Chief of Staff, Jamie Luber Jluber@redzonetech.net for more information.
Subscribe To Bill Murphy's RedZone Podcast