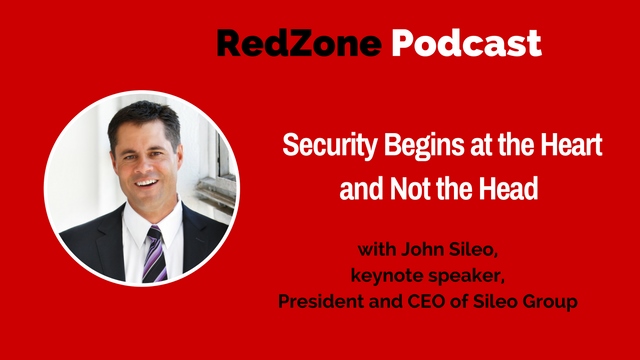 It took a while to get John Sileo on the show after my team heard him speak at an ISACA conference. He is a very in demand speaker and you will see why soon.
About John
John Sileo's identity was stolen and used to embezzle $300,000 from his clients. The exposure destroyed John's career and consumed two years of his life as he fought to stay out of jail.
Combining real-world experience with years of study, John became an award-winning author and leading expert on cyber security, identity theft and data privacy.
Download the Full Transcript>>
John is CEO of The Sileo Group, a data security think tank that helps organizations protect the information that drives their profits. His body of work includes engagements with the Pentagon, USA Today, Visa, 60 Minutes, Homeland Security, Rachael Ray, Schwab and organizations of all sizes.
John graduated with honors from Harvard University and spends his free time with his remarkable wife and two highly spirited daughters.
Major take – aways from this episode are:
Why do you start with 'Why' With IT Security? Security starts with a person behind the social security number.
The Difference between Offense (CIO) and Defense (CSO) for IT Business Leaders.
The importance of splitting the role of CSO away from the CIO – so that you don't have defense reporting to offense.
Renting CSO Services vs buying.
Building security as a habit – Review the Book by

 

Charles Duhigg

 

Power of Habit:Why We Do What We Do In Life and Business.
Build one new habit into your IT Sec Program.
The importance of company culture and IT Security.
Do you celebrate IT Security wins at the highest levels?
Celebrate the reductions of employee errors, including clicking on phishing attempts.
3 ways to protect your data from a ransomware. See

 

John Sileo's website.
Of the people he has studied, 90% have paid the ransom, and only 50% of them have received the

 

key to unlock their data.
The Neuroscience of the Pre-frontal cortex, cortisol, amygdala and how it applies to IT Security.
Review your greatest threat protection and the role of HR.
Ways to Connect with John Sileo:
Website:
Blog:
Books:
TV Appearances:
Love this episode? Leave a Review 
Share it on your LinkedIn feed.
If you haven't already, please make sure you leave us a review on iTunes.
About Bill Murphy
Bill Murphy is a world-renowned IT Security Expert dedicated to your success as an IT business leader. 
Connect With Us On Social Media
Connect with Bill on LinkedIn.
Instagram
Twitter
Facebook
Join The CIO Innovation Mastermind Community
We invite the top 20% of Business IT Leaders for my CIO Innovation Mastermind Events group to participate in monthly discussions on things like VR, AI, and other disruptive & emerging technologies. If you want to become a member, email Chief of Staff, Jamie Luber Jluber@redzonetech.net for more information.
Subscribe To Bill Murphy's RedZone Podcast