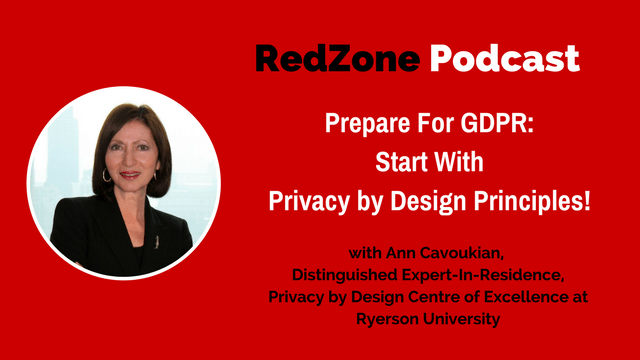 This week my guest is Ann Cavoukian, Distinguished Expert-in-Residence, leading Privacy by Design Centre of Excellence at Ryerson University.
Ann and I talk about privacy, GDPR and the concept of privacy by design, which Ann created. Privacy by design was recognized by the International Data Protection and Privacy Commissioners as an essential component of fundamental privacy protection and it is a core part of the European Union GDPR regulations.
It is really interesting that GDPR is the next thing, from a privacy prospective, that is hitting security. I like GDPR, the privacy it promotes and freedom it will bring to the individual in a long run. It will ultimately force security to respect the individual right.
Listen to the interview and learn more on how to win GDPR with Privacy by Design, Positive Sum Mindset and how to embed privacy and security in your operations.
If you have any questions about preparing for GDPR or need help facilitating this process , email privacy@redzonetech.net
Download the Full Transcript>>
Major Take-Aways From This Episode:
Privacy is not about secrecy. Privacy breathes freedom, innovation, and prosperity.
Privacy by Design could be embedded into the design of your technologies, policies, procedures and data architecture.
How to get rid of "zero-sum mindset": embed both privacy and security in your operations.
The importance of asking how much "baking privacy and security" is going to

 

save

 

you in a long run, not what is it going to

 

cost

 

you.
Privacy (and Data Protection) by design and by default ( Article 25 of the EU GDPR) and transparency are the biggest game-changers with preparing for GDPR.
Great resource to learn about Privacy by Design is

 

International Council on Global Privacy and Security, By Design

 

that highlights the importance of global privacy and security by design.
Practical application of GDPR. How to show that you are serious about abiding by GDPR law?
Positive-Sum Mentality in relation to the concept of "Global Privacy and Security by Design": Positive Sum for Privacy + Security or for Privacy + Business
Important Links and Resources:
About Ann Cavoukian
Dr. Ann Cavoukian is recognized as one of the world's leading privacy experts. She is presently the Distinguished Expert-in-Residence, leading the Privacy by Design Centre of Excellence at Ryerson University. Dr. Cavoukian is also a Senior Fellow of the Ted Rogers Leadership Centre at Ryerson University, and a Faculty Fellow of the Center for Law, Science & Innovation at Sandra Day O'Connor College of Law at Arizona State University. Dr. Cavoukian served an unprecedented three terms as the Information & Privacy Commissioner of Ontario, Canada. There she created Privacy by Design, a framework that seeks to proactively embed privacy into the design specifications of information technologies, networked infrastructure and business practices, thereby achieving the strongest protection possible. In 2010, International Privacy Regulators unanimously passed a Resolution recognizing Privacy by Design as an international standard. Since then, PbD has been translated into 40 languages.
Dr. Cavoukian has received numerous awards recognizing her leadership in privacy, including being named as one of the Top 25 Women of Influence in Canada, named among the Top 10 Women in Data Security and Privacy, named as one of the Power 50′ by Canadian Business, named as one of the Top 100 Leaders in Identity, she was awarded the Meritorious Service Medal by the Governor General of Canada for her outstanding work on creating Privacy by Design and taking it global (May, 2017), named as one of the 50 Most Impactful Smart Cities Leaders, (November, 2017), and most recently, was named among the Top Women in Tech.
How to get in touch with Ann Cavoukian
Love this episode? Leave a Review 
Share it on your LinkedIn feed.
If you haven't already, please make sure you leave us a review on iTunes.
About Bill Murphy
Bill Murphy is a world-renowned IT Security Expert dedicated to your success as an IT business leader. 
Connect With Us On Social Media
Connect with Bill on LinkedIn.
Instagram
Twitter
Facebook
Join The CIO Innovation Mastermind Community
We invite the top 20% of Business IT Leaders for my CIO Innovation Mastermind Events group to participate in monthly discussions on things like VR, AI, and other disruptive & emerging technologies. If you want to become a member, email Chief of Staff, Jamie Luber Jluber@redzonetech.net for more information.
Subscribe To Bill Murphy's RedZone Podcast