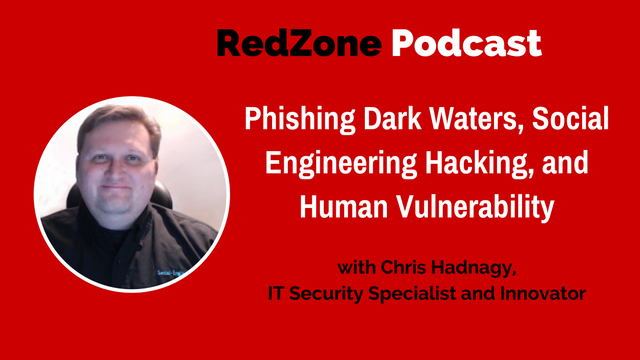 Chris Hadnagy specializes in understanding how malicious attackers exploit human communication and trust to obtain access to information and resources through manipulation and deceit. His goal is to secure companies by educating them on the methods used by attackers, identifying vulnerabilities, and mitigating issues through appropriate levels of awareness and security.
Download the Full Transcript>>
Chris, is the founder and CEO of Social-Engineer. Chris possesses over 16 years experience as a practitioner and researcher in the security field. His efforts in training, education, and awareness have helped to expose social engineering as the top threat to the security of organizations today. What I found fascinating from Chris' bio is that he is a certified Expert Level graduate of Dr. Paul Ekman's Micro Expressions courses, having made the study of non-verbal behaviors one of his specialties.
He established the world's first social engineering penetration testing framework at http://www.social-engineer.org/, providing an invaluable repository of information for security professionals and enthusiasts. The site grew into a dynamic web resource including a podcast and newsletter, which have become staples in the security industry and are referenced by large organizations around the world. Chris also created the first hands-on social engineering training course and certification, Advanced Practical Social Engineering.
A sought-after writer and speaker, Chris has spoken and trained at events such as RSA, Black Hat, and various presentations for corporate and government clients. Chris is also the best-selling author of three books. My favorite was Phishing Dark Waters: The Offensive and Defensive Sides of Malicious Emails , which is his latest that I read.
Major take – aways from this episode are:
A classic story of a Social Engineering hack that Chris did is at the 12 minute mark and is a great example that will remind you of what you need to do to train employees.
The importance of the brain and amygdala as it relates to IT Security.
The importance of the psychology of security.
The importance of non-verbal facial expression and body language.
How to trigger empathy and compassion in a target which really shows how this method is so effective.
The role of mirror neurons.
You will understand the brain and how it reacts to fear, emotion, and danger in relation to social engineering hacks.
@ 35 minutes learn about What is a BEC Scam – Business Email Compromise and how to avoid it.
The difference between Whaling, Vishing, and Phishing.
How to get in touch with Chris Hadnagy
Website:
Podcast:
Blog:
Books/Publications/ Videos:
Published Articles
Videos


Resources Mentioned:
Love this episode? Leave a Review 
Share it on your LinkedIn feed.
If you haven't already, please make sure you leave us a review on iTunes.
About Bill Murphy
Bill Murphy is a world-renowned IT Security Expert dedicated to your success as an IT business leader. 
Connect With Us On Social Media
Connect with Bill on LinkedIn.
Instagram
Twitter
Facebook
Join The CIO Innovation Mastermind Community
We invite the top 20% of Business IT Leaders for my CIO Innovation Mastermind Events group to participate in monthly discussions on things like VR, AI, and other disruptive & emerging technologies. If you want to become a member, email Chief of Staff, Jamie Luber Jluber@redzonetech.net for more information.
Subscribe To Bill Murphy's RedZone Podcast