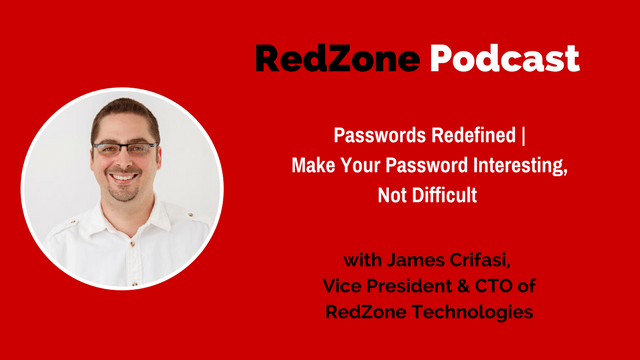 My guest this week is James Crifasi, Vice President and CTO of RedZone Technologies.
In this interview we discuss the importance of password security. Implementing a strong password policy and educating users is vital to your organization's IT Security Immune System.
Listen to the interview to learn about how to create a strong password in order to protect your company from hackers and phishing attacks.
Download the Full Transcript>>
Major Take-Aways From This Episode:
• A lot of customer calls about hacks in reality are a lost password issue (because someone lost their password and someone else used it).
• Password cracking systems use dictionaries that include not only a word dictionary, but also movie and book titles.
• The main issues of easy-cracked passwords: habitual passwords and poor password policy.
• Passwords that work best are phrases intermixed with numbers or symbols.
• Two-factor authentication prevents someone from using your password against you.
• Make your password interesting, not more complicated!
Once malware starts cracking your passwords, it is capable of doing anything.
• The nature of the advanced phishing attacks is the ability to say, "If your silly enough to lose your password and don't have two-factor authentication, your password could be cracked."
• Two-factor authentication solves 90% of the problems for remote access.
About James Crifasi
James Crifasi is Vice President and CTO of RedZone Technologies in Annapolis, Maryland. The firm provides Managed IT and Security solutions to businesses based in the Mid-Atlantic and supports client locations nationwide. Currently, James leads the RedZone teams that support clients in their efforts to protect against hackers, as well as successfully and repeatedly pass any and all security examinations and regulatory audits. He is a member of InfraGard, a partnership between the FBI and the private sector. InfraGard is dedicated to sharing information and intelligence to prevent hostile acts against the U.S. James is also a frequent speaker on security issues and the expanding threat landscape.
Prior to joining RedZone in 2005, James built IT infrastructures, improved organizational performance, lead IT initiatives, and lowered costs in the Retail and Biotechnology industry. He has also consulted with Banking and Finance institutions to implement network security and high performance business systems.
James holds several degrees from the University of Maryland: a B.S in Computer Science and Algorithmic Theory, a B.A. in Criminology and Criminal Justice, and a M.S. in Interdisciplinary Management. He has over 20 years of IT security, architecture and integration experience. His varied education and experience, plus his broad knowledge of assessments and audit regulations, enables him and his team to deliver on the security needs of RedZone clients. Under his leadership, RedZone has successfully developed into a world-class IT service organization
How to get in touch with James Crifasi
Useful Links and Resources:
For password or any security questions, email

 

defenseinnovation@redzonetech.net
www.redzonetech.net

 

–

 

RedZone Technologies Website
Love this episode? Leave a Review 
Share it on your LinkedIn feed.
If you haven't already, please make sure you leave us a review on iTunes.
About Bill Murphy
Bill Murphy is a world-renowned IT Security Expert dedicated to your success as an IT business leader. 
Connect With Us On Social Media
Connect with Bill on LinkedIn.
Instagram
Twitter
Facebook
Join The CIO Innovation Mastermind Community
We invite the top 20% of Business IT Leaders for my CIO Innovation Mastermind Events group to participate in monthly discussions on things like VR, AI, and other disruptive & emerging technologies. If you want to become a member, email Chief of Staff, Jamie Luber Jluber@redzonetech.net for more information.
Subscribe To Bill Murphy's RedZone Podcast