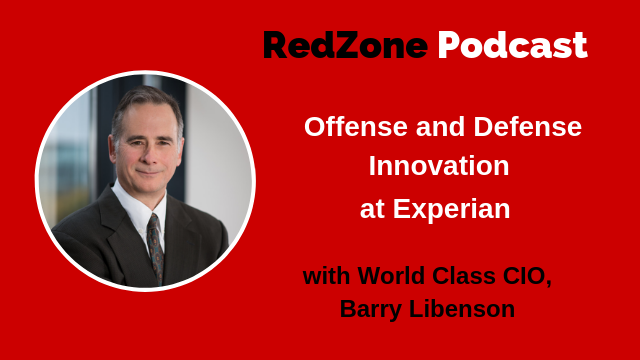 I'm very excited about my guest for you today. It's Barry Libenson, Global CIO for Experian. He is responsible for the design and delivery of global technology strategy. Prior to joining Experian in 2015, he was Senior Vice President and CIO of Safeway in North America. Before that, he was the CIO and VP of Land O'Lakes. He has a continuous track record of huge success in the CIO capacity.
I am excited to bring Barry back for "Round 2" – his second episode with me and the RedZone Podcast. You will get the following out of this show as it relates to CIO Offensive and Defensive Strategy for a World Class company:
Why you must understand strategies around Micro Services and APIs, how Barry's topflight team is a key component to this strategy, how he approaches legacy and 'build new', and rapid iteration and testing in his environment.
Idea Incubation and 3 Innovation Labs at Experian coupled with M&A
Nurturing a mindset that can't be disrupted or blindsided by tech disruption
Why moving to the cloud is a debatable strategy and more of a tactic
Barry's approach to building portability using Micro Services with legacy apps
His relentless pursuit of security excellence. He dives into his layered defense and 'hunting approach'
The role of AI and Machine Learning at Experian in developing products of the future
The mistakes some CIOs make with security and how to avoid them
When to look at the Macro vs. Micro perspective to keep yourself in top leadership form
I hope you enjoyed this program interview with Barry Libenson. If you liked this episode, I want you to forward it on your LinkedIn page to your community. I also want you to like and leave comments about the episode on iTunes, and for my droid listeners on Stitcher.
If you are interested in learning more about RedZone and our security expertise in particular related to Cloud and Email Security Kill Chain Strategy, Techniques, and Tactics you can email cloudkill@redzonetech.net.
Until next time. I'm signing off. Thank you and have a great day! 
You can go to the full transcript to get more details about this episode with Barry Libenson below.
Download the Full Transcript>>
About Barry Libenson
Barry Libenson is Experian's Global Chief Information Officer (CIO), with responsibility for the design and delivery of Experian's global technology strategy. Prior to joining Experian in June 2015, he was Senior Vice President and CIO of Safeway Inc. in North America. Before that, he served as the Chief Information Officer and Vice President at Land O Lakes Inc. Barry joined Ingersoll-Rand as Vice President of e-Business in May 2001 and served as its Chief Information Officer beginning in 2003. There he was responsible for defining and implementing Ingersoll-Rand's global electronic and internet business strategies, with a focus on customer relationship and supply chain management.
Early in his career, he served as Executive Vice President of Surety Inc., a data-integrity services company; as Chief Executive Officer for Visix, a software publisher; and held management positions with Phoenix Technologies and Oracle Corporation. He served as a Director at Tavant Technologies, a software firm with offices in California and Bangalore India.
Barry holds a bachelor's degree in Computer Science from Colgate University and earned a Master of Business Administration degree from The Fuqua School of Business at Duke University.
How to get in touch with Barry Libenson
This episode is sponsored by the CIO Innovation Insider Forum, dedicated to Business Digital Leaders who want to be a part of 20% of the planet and help their businesses win with innovation and transformation.
Love this episode? Leave a Review 
Share it on your LinkedIn feed.
If you haven't already, please make sure you leave us a review on iTunes.
About Bill Murphy
Bill Murphy is a world-renowned IT Security Expert dedicated to your success as an IT business leader. 
Connect With Us On Social Media
Connect with Bill on LinkedIn.
Instagram
Twitter
Facebook
Join The CIO Innovation Mastermind Community
We invite the top 20% of Business IT Leaders for my CIO Innovation Mastermind Events group to participate in monthly discussions on things like VR, AI, and other disruptive & emerging technologies. If you want to become a member, email Chief of Staff, Jamie Luber Jluber@redzonetech.net for more information.
Subscribe To Bill Murphy's RedZone Podcast