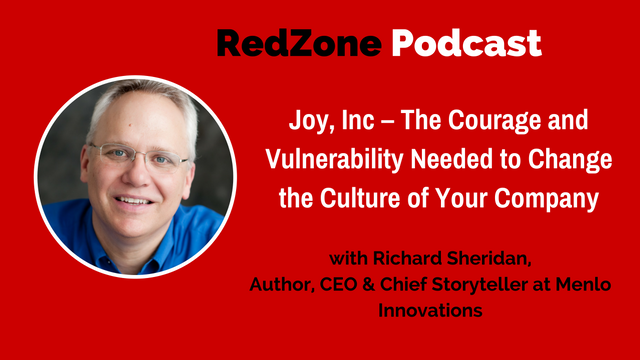 While listening to my podcast interview with Richard Sheridan, you will get an innovative perspective on people, culture and design from one of the top organizational leaders and business builders in the US today.
I am fascinated with people who have the enormous courage, heart, vulnerability it takes to actually do things differently (in Rich's case, radically different). Whether you are a business IT leader employed by a company, or an entrepreneur. Rich and I cover equally cover the two, because he has had massive success with both.
This discussion is a master- class. I felt like he was speaking to me personally on how to think about my own company and my own teams. I trust his message will be equally ring true for you.
Download the Full Transcript>>
About Richard Sheridan
Richard Sheridan got started as a kid programmer in 1971. He is the author of Joy, Inc. He is a Michigan graduate BS Computer Science + MS Computer Engineering. He has never shied from challenges, opportunities nor the limelight. While his focus has always been around technology, his passion is actually process, teamwork and organizational design, with one inordinately popular goal: the Business Value of Joy! He is an avid reader and historian, and his software design and development team at Menlo Innovations didn't invent a new culture, but copied an old one … Edison's Menlo Park New Jersey lab. Henry Ford's recreation of the Menlo Park Lab in Greenfield Village was a childhood inspiration!
Some call it agile, some call it lean … Rich and his team call it joyful. And it produces results, business and otherwise. Six Inc. magazine revenue growth awards, invites to the White House, speaking engagements around the nation, numerous articles and culture awards and so much interest they are doing a tour a day of the Menlo Software Factory™.
Major Take-Aways From This Episode:
How to handle the chaos of software development with process and culture,
The process of installing a culture of delight into your teams,
His version of instilling accountability and service,
The concept of team flow,
One simple phrase to disarm every naysayer ever again.
How to get in touch with Rich Sheridan
Website:
Blog:
Book:
Joy Inc.: How to Build a Workplace People Love
Video:
Richard Sheridan's Recommendations:
Love this episode? Leave a Review 
Share it on your LinkedIn feed.
If you haven't already, please make sure you leave us a review on iTunes.
About Bill Murphy
Bill Murphy is a world-renowned IT Security Expert dedicated to your success as an IT business leader. 
Connect With Us On Social Media
Connect with Bill on LinkedIn.
Instagram
Twitter
Facebook
Join The CIO Innovation Mastermind Community
We invite the top 20% of Business IT Leaders for my CIO Innovation Mastermind Events group to participate in monthly discussions on things like VR, AI, and other disruptive & emerging technologies. If you want to become a member, email Chief of Staff, Jamie Luber Jluber@redzonetech.net for more information.
Subscribe To Bill Murphy's RedZone Podcast