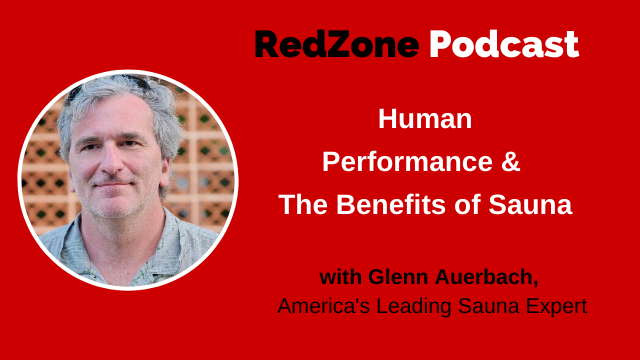 Welcome back to the show, everyone. This is Bill Murphy, your host of the RedZone Podcast. So today's the title of this episode is 'Human Performance and the Benefits of Sauna', in particular Finnish sauna. So how did this start?
A couple of years ago, I had Wim Hof on the show. He trains people on how to elevate their body temperature when they're immersed in cold water and he always had a sauna off to the side. Now, he has an institute in Norway, and I trained with him in Poland. Wim Hof has talked a lot about the benefits of sauna, relative to cold, it's called thermogenesis.
I have always wanted to learn more about the benefits of sauna; and there's been a lot of research on how sauna can help with your cardiovascular system. It can help with a variety of different diseases and with just general health and well being.
So, I asked the leading sauna person in the United States, Glenn Auerbach, to come on the show. I met Glenn in Minnesota when I went to look at a sauna he put together – and that I was planning to purchase.
In Minnesota, it's quite an ice fishing culture, so it's not a big step for them to build these really great ice fishing houses. Now, they've moved into building these really custom saunas. You can see on Saunatimes, the website that Glenn runs, what people have done with saunas, these outdoor saunas across the country. We get into what the differences are between types of saunas, like Finnish saunas versus your 24-hour fitness type sauna, or an infrared sauna, and what the real differences are there between them. We talked about the kind of 'sauna culture' in Minnesota and Finland. We talked about, as I mentioned, the science of it and the psychological benefits in alternating between cold and hot.
We covered a lot of ground in this episode. So, if you're interested in sauna, and potentially integrating that into your experience and learning more about it, this would be a great episode for you. With that, I want to introduce you to my conversation with Glenn Auerbach.
Download the Full Transcript>>
You can go to the show notes to get more information about Glenn Auerbach and what we discussed in this episode. You'll find the show notes at redzonetech.net/podcasts.
About Glenn Auerbach
For over thirty-four years, Glenn Auerbach has been an enthusiastic authentic sauna evangelist. In 2008 he started www.saunatimes.com to share this appreciation with others.  Four years ago, he started SaunaTalk, a podcast about sauna and most often recorded on the sauna bench.
Glenn has written, Sauna Build, From Start to Finnish, the go-to eBook that includes step by step instructions for building a sauna.  He has helped hundreds of people build their own saunas, some of which are featured, illustrated and reported on saunatimes.com.
Ways to connect with Glenn Auerbach (and Build Your Own Sauna):
Resources and Links from this episode with Glenn Auerbach:
Here are some general references from this episode with Glenn Auerbach:
How to Connect with Sauna Professionals Mentioned in this Episode:
Books Mentioned:
---
This episode is sponsored by the CIO Innovation Forum, dedicated to Business Digital Leaders who want to be a part of 20% of the planet and help their businesses win with innovation and transformation.
Love this episode? Leave a Review 
Share it on your LinkedIn feed.
If you haven't already, please make sure you leave us a review on iTunes.
About Bill Murphy
Bill Murphy is a world-renowned IT Security Expert dedicated to your success as an IT business leader. 
Connect With Us On Social Media
Connect with Bill on LinkedIn.
Instagram
Twitter
Facebook
Join The CIO Innovation Mastermind Community
We invite the top 20% of Business IT Leaders for my CIO Innovation Mastermind Events group to participate in monthly discussions on things like VR, AI, and other disruptive & emerging technologies. If you want to become a member, email Chief of Staff, Jamie Luber Jluber@redzonetech.net for more information.
Subscribe To Bill Murphy's RedZone Podcast