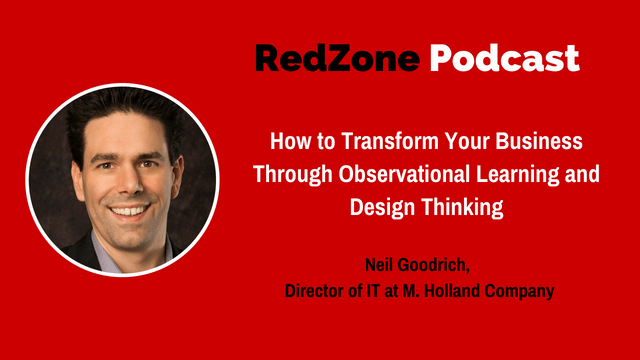 If you enjoy listening to my podcast, please take a minute to leave a review here!
My guest this week is Neil Goodrich, Director of IT at M. Holland Company. With a background in accounting, project management, and investigation, Neil's IT work has recently been focused on building technology teams around cultures of creativity. 
At my CIO Innovation Insider events, I constantly talk to CIOs about innovation and transformation. I recently asked the group this thought-provoking question:
"How do you get your IT team to engage with the business at a higher level?"
Neil has created some amazing ways to do it through storytelling and developing empathy within the business. I also love his practical approach to finding pain points of the end user by doing ride alongs with the sales team members.
I think you will enjoy some practical ideas that Neil and I discuss in this interview. As you develop your own vision of innovation and transformation within your organization, this could be one of the puzzle pieces that you will find very useful!
Download the Full Transcript>>
What You Will Learn:
Neil's story on gamifying a launch of SharePoint @ 0:35min
Learn practical ways to turn your IT teams into service providers
Storytelling – marry quantitative analysis with storytelling
What is your role in your organization? What is your perceived role?
Human relationships trump everything – train you team to build relationships in your company.
Train your technical team by doing ride alongs and go yourself on ride alongs
Build products (design and projects) with empathy and respect user experience
Ground level design
Leverage the natural problem solving skills of your team by building confidence working with the business
Develop a culture of having fun.
About Neil Goodrich
As the technology leader at the M. Holland Company, Neil is responsible for establishing information technology strategies, digital organization change, and outstanding user experiences. His multi-disciplinary background includes previous lives in accounting, project management, and investigation while his recent work has focused on building technology teams around cultures of creativity. He received his Bachelor of Arts in Criminal Justice from the University of Illinois at Chicago, and a Master of Business Administration in Operations Management from the UIC Liautaud Graduate School of Business. He continues to have strong ties to the UIC campus, where he mentors a cohort of high performing students as part of the Business Scholars program.
How to get in touch with Neil Goodrich
Key Resources:
This episode is sponsored by the CIO Innovation Insider Council, dedicated to Business Digital Leaders who want to be a part of 20% of the planet and help their businesses win with innovation and transformation.
Love this episode? Leave a Review 
Share it on your LinkedIn feed.
If you haven't already, please make sure you leave us a review on iTunes.
About Bill Murphy
Bill Murphy is a world-renowned IT Security Expert dedicated to your success as an IT business leader. 
Connect With Us On Social Media
Connect with Bill on LinkedIn.
Instagram
Twitter
Facebook
Join The CIO Innovation Mastermind Community
We invite the top 20% of Business IT Leaders for my CIO Innovation Mastermind Events group to participate in monthly discussions on things like VR, AI, and other disruptive & emerging technologies. If you want to become a member, email Chief of Staff, Jamie Luber Jluber@redzonetech.net for more information.
Subscribe To Bill Murphy's RedZone Podcast