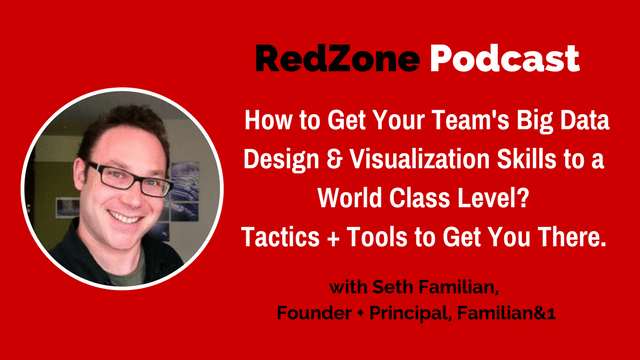 My guest this week is Seth Familian, who specializes in connecting powerful web-based tools and services to create highly customized marketing + analytics experiences for product and content marketing teams. He is the founder and principal of Familian&1, a visual insights and automation consultancy whose work has benefitted companies including Cisco, RingCentral, Adorama and Cloud9. Seth is also an avid educator with experience teaching over 800 students in 40+ workshops on Visual Design with Data, Working with Big Data, Digital Tools for Business and Affordable Web Design. He has lectured at General Assembly, Galvanize, Impact HUB SF, Presidio Graduate School, the Haas School of Business and KQED. 
Seth received his MBA from UC Berkeley's Haas School of Business in 2007 and his BA from Harvard University in 2001. He is based in Boulder, CO and works from Galvanize Boulder.
If you are a CIO, CMO, an entrepreneur, a CIO who is expected to also be a CMO or a CISO who wants to better present data…Regardless of your situation all will benefit from this conversation.
Download the Full Transcript>>
Major Take-Aways From This Episode:
Why it is important to build visual design skills into your team?
What are the big errors in data visualization and storytelling?
Seth's favorite tools you have to look at:
Time-saving tactics with creating effective visual presentations of data
His presentations on Slideshare are great. One of them –

 

Visual Design with Data

 

got 500k + views
Visualization Strategies for IT Execs; Tools and Ideas on how they can be more successful
Ways to leverage cloud apps + infrastructure to shorten implementation times
Different trends I'm noticing in data viz and storytelling (like Scrollytelling). Check out the Guardian Newspaper article about Hollman Square to see an example of

 

Scrollytelling. In a world of high complexity, business IT leaders need ways to visualize data and, more importantly, context in data in the ways that engage business leaders
How to get in touch with Seth Familian
Websites:
Useful Resources:
Love this episode? Leave a Review 
Share it on your LinkedIn feed.
If you haven't already, please make sure you leave us a review on iTunes.
About Bill Murphy
Bill Murphy is a world-renowned IT Security Expert dedicated to your success as an IT business leader. 
Connect With Us On Social Media
Connect with Bill on LinkedIn.
Instagram
Twitter
Facebook
Join The CIO Innovation Mastermind Community
We invite the top 20% of Business IT Leaders for my CIO Innovation Mastermind Events group to participate in monthly discussions on things like VR, AI, and other disruptive & emerging technologies. If you want to become a member, email Chief of Staff, Jamie Luber Jluber@redzonetech.net for more information.
Subscribe To Bill Murphy's RedZone Podcast