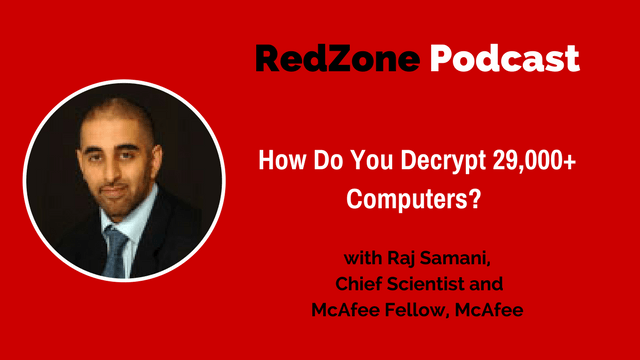 One of the A-caliber CIOs I know recently asked me this amazing question::
Bill, do you realize how much it is costing me to secure my systems?  
I decided to ask this question during my interview with Raj Samani, Chief Scientist and McAfee Fellow at McAfee.  How DO YOU scale your security defenses when it is very difficult to get people to scale?
In this week's interview Raj shares his passion for the Security Industry and his ways of diving deep into his craft. We talk about the power of learning and the need for an IT leader to be an articulate communicator. LIsten to Raj and I discuss how we can solve Enterprise Security challenges across the globe.
Major Take-Aways From This Episode:
Being Innovative does not mean we should ignore privacy or care.
Power of choice and making a decision.
Power of ongoing learning.
The importance of developing communication skills.
Key questions to ask about improving your skills for future: Are you willing to learn? Do you have aptitude + ability to learn? Do you have enthusiasm and passion to learn?
How to teach kids to sell their ideas? How to teach kids not to take "no" for an answer?
Great industry collaboration = Solving a question of an A-caliber CIO I know.
The necessity of taking security, privacy and managing our personal data seriously.
Download the Full Transcript>>
About Raj Samani
Raj Samani is Chief Scientist and McAfee Fellow for cybersecurity firm McAfee. He has assisted multiple law enforcement agencies in cybercrime cases, and is a special advisor to the European Cybercrime Centre in The Hague. Samani has been recognized for his contribution to the computer security industry through numerous awards, including the Infosecurity Europe hall of Fame, Peter Szor award, and Intel Achievement Award, among others. He is the coauthor of the book "Applied Cyber Security and the Smart Grid" and the "CSA Guide to Cloud Computing," as well as technical editor for numerous other publications. He can be found on twitter @Raj_Samani.
How to get in touch with Raj Samani
Key Resources and Links:
Website:
Love this episode? Leave a Review 
Share it on your LinkedIn feed.
If you haven't already, please make sure you leave us a review on iTunes.
About Bill Murphy
Bill Murphy is a world-renowned IT Security Expert dedicated to your success as an IT business leader. 
Connect With Us On Social Media
Connect with Bill on LinkedIn.
Instagram
Twitter
Facebook
Join The CIO Innovation Mastermind Community
We invite the top 20% of Business IT Leaders for my CIO Innovation Mastermind Events group to participate in monthly discussions on things like VR, AI, and other disruptive & emerging technologies. If you want to become a member, email Chief of Staff, Jamie Luber Jluber@redzonetech.net for more information.
Subscribe To Bill Murphy's RedZone Podcast