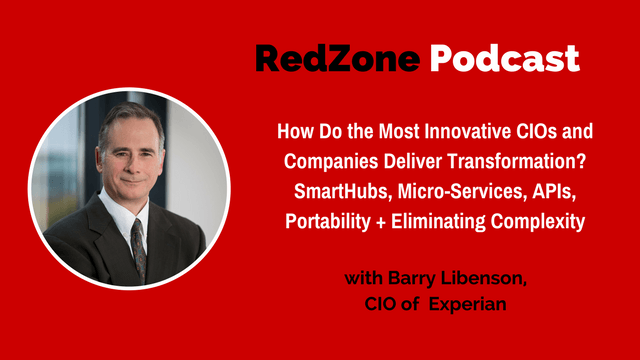 My guest this week is Barry Libenson, Global Chief Information Officer of Experian. During our interview Barry and I discuss what Experian is doing with innovation and his role in it. 
Download the Full Transcript>>
Some of the big ideas we discuss:
The shifts Barry sees of customers requiring access at the API layer to micro services so they can consume only what they want
How to build a micro services environment for internal and external use
How IoT is shifting what customers are asking for
Taking costs and complexity out of the business
Speeding up innovation
Better experience for customers
Agile performance to respond to organizational threats
Smart Hubs
The API Economy
Tools for Microservices:

 

Red Hat OpenShift,

 

Pivotal Labs,

 

Mirantis 
The importance of portability and use of portable containers for Azure and AWS using

 

Cassandra,

 

PostgreSQL, or

 

MySQL

 

or one of the more portable container.
About Barry Libenson: 
Barry Libenson is Chief Information Officer (CIO), with responsibility for the design and delivery of Experian's global technology strategy. Prior to joining Experian in June 2015, he was CIO of Safeway in North America. Earlier in his career, Barry held CIO positions at Land O'Lakes and Ingersoll Rand. Barry has a BA in Computer Science from Colgate University, and a MBA from Duke University. He was also one of the first employees at Oracle when they were only a $19 million dollar company.
Company Website:
Other Resources:
Ways to connect with Barry Libenson:
Love this episode? Leave a Review 
Share it on your LinkedIn feed.
If you haven't already, please make sure you leave us a review on iTunes.
About Bill Murphy
Bill Murphy is a world-renowned IT Security Expert dedicated to your success as an IT business leader. 
Connect With Us On Social Media
Connect with Bill on LinkedIn.
Instagram
Twitter
Facebook
Join The CIO Innovation Mastermind Community
We invite the top 20% of Business IT Leaders for my CIO Innovation Mastermind Events group to participate in monthly discussions on things like VR, AI, and other disruptive & emerging technologies. If you want to become a member, email Chief of Staff, Jamie Luber Jluber@redzonetech.net for more information.
Subscribe To Bill Murphy's RedZone Podcast