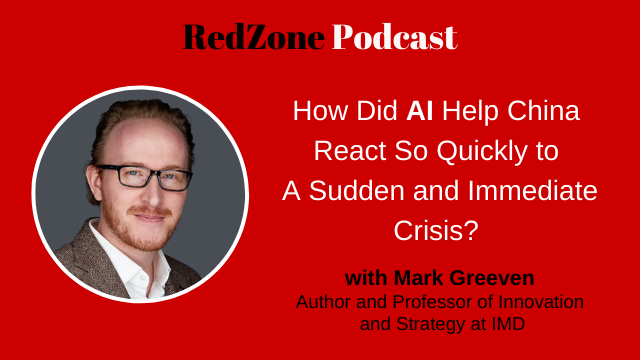 Today my guest is Mark Greeven, Professor of Innovation and Strategy at IMD. I'm going to begin by commenting on the amazing timing of my interview with Mark, just last week. In our conversation, his first-hand insight into the culture and strategies of Chinese business as they experienced the COVID-19 crisis, are absolutely relevant for us, as leaders, as we are now experiencing the same in the USA.
In our conversation, Mark explains why China, the people and their organizations were able to react so quickly to a sudden and immediate crisis. Why they seemed so much more prepared with a huge population of 1.4 billion even within the healthcare system, and how did they mobilize exponential technologies so quickly?
Before joining IMD, Mark also held faculty positions in China and The Netherlands, and currently serves as a a research associate at China's National Institute for Innovation Management, Center for China and Globalization, Center for Global R&D and Innovation, and the US-China Innovation Research Center at Duke Kunshan University.
With a decade of experience in research, teaching and consulting in China, Mark has learned how to organize innovation in a turbulent world; and through collaboration with innovative Chinese companies and entrepreneurial multinationals, has explored novel ways of organizing, accelerating corporate innovation, and designing business ecosystems to thrive on uncertainty.
Mark's latest book, Pioneers, Hidden Champions, Change Makers and Underdogs: Lessons from China's Innovators, was published in 2019; and in 2017, he was named on the 2017 Thinkers50 Radar list of 30 next generation business thinkers, an annual ranking that the Financial Times deemed the Oscars of Management Thinking.
Listen to this novel interview as Mark and I discuss business ecosystems and how we need to do things together, as a leader, individually, and as a company. Mark will share with us his predictions for the outcome and lasting impact of turbulent events, which don't all happen to be bad. The consequences will reveal that resilience during these uncertain times will set apart the more successful leaders from the less successful leaders.
What You will Learn From This Interview:
How did Chinese people and their organizations react so quickly to the COVID-19 virus?
What allows Chinese companies to be so agile and reactive to change?
How can strategy be a form of fear?
How can strategy be more like, 'strategy on the spot', to make things happen fast?
Strategy for a changing world – Deliberate vs. Non-deliberate or emerging Strategy
Why is this particular event not a big deal to Chinese leaders and what can we learn from them?
What are some practical ways business leaders can create a more reactive execution capability?
Why does Single-Threaded Leadership blast through the ceiling of complexity?
How can a small company who has grown into a larger organization still maintain an intrapreneurial spirit and mindset?
Books + Key Resources:
How to Connect with Mark Greeven
For the full transcript of this episode, click here.
Love this episode? Leave a Review
Share it on your LinkedIn feed.
If you haven't already, please make sure you leave us a review on iTunes.
About Bill Murphy
Bill Murphy is a world-renowned IT Security Expert dedicated to your success as an IT business leader. 
Connect With Us On Social Media
Connect with Bill on LinkedIn.
Instagram
Twitter
Facebook
Join The CIO Innovation Mastermind Community
We invite the top 20% of Business IT Leaders for my CIO Innovation Mastermind Events group to participate in monthly discussions on things like VR, AI, and other disruptive & emerging technologies. If you want to become a member, email Chief of Staff, Jamie Luber Jluber@redzonetech.net for more information.
Subscribe To Bill Murphy's RedZone Podcast