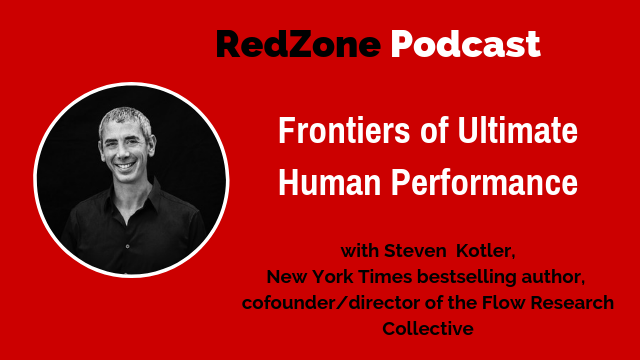 I had a wonderful discussion with Steven Kotler. I don't believe that you can talk about Exponential Tech, Leadership, and Enterprise IT Security without discussing Human Potential.
During this episode you will be a fly on the wall in exploring the Frontiers of Human Potential with one of the top leaders in this field.
By reading Steven's books and engaging with the body of research around them, I have greatly expanded my capacity as an individual, father, businessman, and leader.
Download the Full Transcript>>
About Steven Kotler
Steven is a New York Times bestselling author, an award-winning journalist and the cofounder/director of research for the Flow Genome Project. He is one of the world's leading experts on ultimate human performance.
His latest work, Bold was called a "visionary roadmap for change," by president Bill Clinton and spent many weeks atop both the New York Times and Wall Street Journal bestseller lists.
His previous book, The Rise of Superman, was one of the most talked about books in 2013 and the first book in history to land on national bestseller lists in the sports, science, and business categories simultaneously. In it, Steven decodes the science of flow, an optimal state of consciousness where we feel our best and perform our best.
Just as Rise explores the upper limits of individual possibility, his book, Abundance, explores the upper limits of societal possibility, breaking down four emerging forces that give humanity the potential to significantly raise global standards of living over the next 20 to 30 years. Abundance spent 10 weeks atop the New York Times bestseller list and appeared on four prestigious "Best Book of the Year" lists.
His writings have been translated into over 40 languages and appeared in over 80 publications, including The New York Times, Atlantic Monthly, Forbes, Wired and TIME.
Alongside his wife, author Joy Nicholson, Steven is the cofounder of Rancho de Chihuahua, a dog sanctuary in the mountains of Northern New Mexico.
Major Take-Aways From This Episode:
Science and neurobiology.
How to increase flow in your life.
Leading in times of exponential change.
Reducing the signal of noise to the brain.
Reducing the inner critic.
Developing lateral thinking,
Staying focused.
How to get in touch with Steven Kotler:
Websites:
Books:
Publications:
Love this episode? Leave a Review 
Share it on your LinkedIn feed.
If you haven't already, please make sure you leave us a review on iTunes.
About Bill Murphy
Bill Murphy is a world-renowned IT Security Expert dedicated to your success as an IT business leader. 
Connect With Us On Social Media
Connect with Bill on LinkedIn.
Instagram
Twitter
Facebook
Join The CIO Innovation Mastermind Community
We invite the top 20% of Business IT Leaders for my CIO Innovation Mastermind Events group to participate in monthly discussions on things like VR, AI, and other disruptive & emerging technologies. If you want to become a member, email Chief of Staff, Jamie Luber Jluber@redzonetech.net for more information.
Subscribe To Bill Murphy's RedZone Podcast