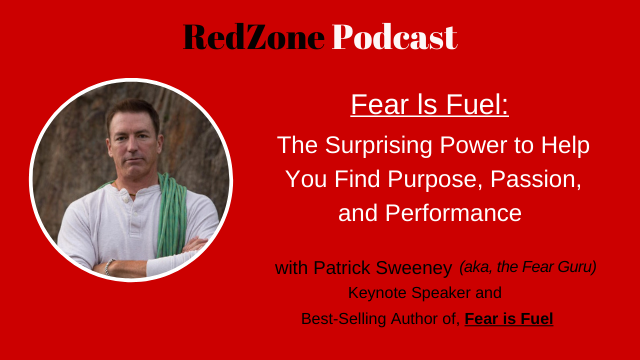 In this, the newest Episode of my RedZone Podcast, my guest is Patrick Sweeney. Since this interview, Patrick has become a best-selling author as his new book, Fear Is Fuel: The Surprising Power to Help You Find Purpose, Passion, and Performance, has hit the Wall Street Journal's Best Seller List at #5! A fantastic achievement.
Patrick has been dubbed the "Fear Guru" for his work with more than 500 global CEOs, actors, professional athletes, Navy SEALs and corporations. He inspires 25,000 people each year through keynote speeches teaching tools to live the biggest, most fulfilling life possible. He also lectures at leading universities from Harvard Business School to the University of Virginia.
Before earning a top tier MBA, he placed second in the Olympic Trials in rowing and is the only person to ever summit Mt. Elbrus, Mt. Kilimanjaro, and Everest Base Camp by bicycle and in 2018 won the Race Across America in a four-person team. He is also the first person to attempt cycling the seven summits. In Feb 2015 he became the first person to officially bike to Everest Base Camp in Nepal, the summit of Kilimanjaro and the summit of Elbrus.
He was the founder and CEO of four technology companies, holds seven patents, produced award-winning adventure documentary films and is an angel investor in over 30 start-ups. He was the Chairman of Young Presidents Organization (YPO) Sports & Entertainment Network, and has appeared on CNBC, CNN, Good Morning America, Fox News and the Today Show.
Few people know what it's like to be in a prison of fear their entire life. For over 30 years fear drove Patrick's choices and actions, and he missed out on countless amazing opportunities that life presented him.
After contracting a rare form of leukemia, Patrick found courage as a super-power. Curiosity led him to discover the neuroscience behind his life changing transformation so, he interviewed three dozen of the World's top neuroscientists. Those sessions changed his thinking and instilled a new mission in Patrick to share what he learned and help others transform their life from fear-based to confident and courageous.
There are two ways that you make decisions in life either out of fear or out of opportunity. The first leads to regret, shame and failure; the last leads to growth, happiness, success and learning. In this conversation, Patrick and I discuss how 70% to 80% of our decisions are made subconsciously out of fear, based on what neuroscientists call prior beliefs.
These preconceived beliefs are what create subconscious fear, and unless we can ask ourselves powerful questions and replace judgement with curiosity, these fears will play out throughout our lives. Patrick shares some fantastic stories and we talk about how changing this type of thinking and decision making is particularly relevant for CEOs, like myself, and for CIOs and IT Leaders like those in my CIO Innovation Forum groups.
Listen to this podcast episode to learn more about understanding and finding your hidden fears. Then grab a copy of Patrick Sweeney's new book, Fear Is Fuel: The Surprising Power to Help You Find Purpose, Passion, and Performance. He wants to teach you courage, confidence how to achieve peak performance. His mission is to help millions around the world use Fear as Fuel.
Here are some of things that you will learn in this podcast episode:
How can you enhance your internal database'?
What does Patrick mean when he talks about your tribe' and the 3 layers that are critical?
How to find your hidden fears?
What is the terror triangle?
How can you double your mind's capacity for processing?
What is the difference between a physical and emotional journey?
How can you develop a blueprint for bravery and courage?
How to stop that amygdala from hijacking your decisions
Why is it important to scare yourself every day?
How four by four' breathing can clear your mind
How to get in touch with Patrick Sweeney:
Books/Articles:
New Book:
Other resources mentioned in this interview:
Download the full transcript >>
Love this episode? Leave a Review 
Share it on your LinkedIn feed.
If you haven't already, please make sure you leave us a review on iTunes.
About Bill Murphy
Bill Murphy is a world-renowned IT Security Expert dedicated to your success as an IT business leader. 
Connect With Us On Social Media
Connect with Bill on LinkedIn.
Instagram
Twitter
Facebook
Join The CIO Innovation Mastermind Community
We invite the top 20% of Business IT Leaders for my CIO Innovation Mastermind Events group to participate in monthly discussions on things like VR, AI, and other disruptive & emerging technologies. If you want to become a member, email Chief of Staff, Jamie Luber Jluber@redzonetech.net for more information.
Subscribe To Bill Murphy's RedZone Podcast