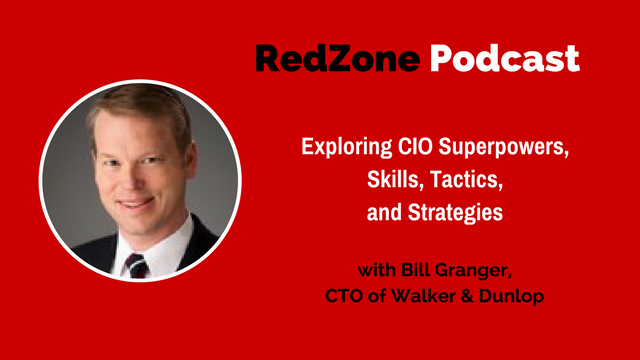 My conversation with Bill Granger, CTO of Walker & Dunlop, continues down my path of exploring superpowers, skills, strategies and tactics that make top A+ Chief Information Officers succeed.
As I reviewed the transcript of my conversation with Bill, I was reminded that as you progress in your career, the truly successful transition is from I/me success, to we/us, to helping others succeed.
Major Take-Aways From This Episode:
How to influence and lead positively as one of the core foundation skills
The role of exercise for busy, successful leaders
Paying attention to experimental and disruptive technologies
The huge impact of finding a mentor and being a mentor
The importance of continuous learning
Unique project management skills I loved
How to pitch solutions using strong financial literacy
Fun story of the flea at 42:00
Download the Full Transcript>>
About Bill Granger:
Bill Granger, chief technology officer, joined Walker & Dunlop in 2010. Mr. Granger is responsible for managing and expanding the company's information technology infrastructure. Before joining Walker & Dunlop, Mr. Granger was director of Information Technology at Beers & Cutler, a Virginia-based accounting firm recently acquired by Baker Tilly, LLC. At Beers & Cutler, Mr. Granger successfully upgraded the firm's infrastructure to position the firm for expansion prior to the company's acquisition. Previous to Beers & Cutler, Mr. Granger led the application group for the Mills Corporation and the technology infrastructure group at Charles E. Smith Commercial Realty before it was acquired by Vornado Realty Trust. Mr. Granger served in the U.S. Air Force from 1986 – 1992, when he was honorably discharged with Air Force Commendation Medals. Mr. Granger received a Bachelor of Science in Accounting from George Mason University in 1994.
Company Website:
Other Resources:
Ways to connect with Bill Granger:
Love this episode? Leave a Review 
Share it on your LinkedIn feed.
If you haven't already, please make sure you leave us a review on iTunes.
About Bill Murphy
Bill Murphy is a world-renowned IT Security Expert dedicated to your success as an IT business leader. 
Connect With Us On Social Media
Connect with Bill on LinkedIn.
Instagram
Twitter
Facebook
Join The CIO Innovation Mastermind Community
We invite the top 20% of Business IT Leaders for my CIO Innovation Mastermind Events group to participate in monthly discussions on things like VR, AI, and other disruptive & emerging technologies. If you want to become a member, email Chief of Staff, Jamie Luber Jluber@redzonetech.net for more information.
Subscribe To Bill Murphy's RedZone Podcast