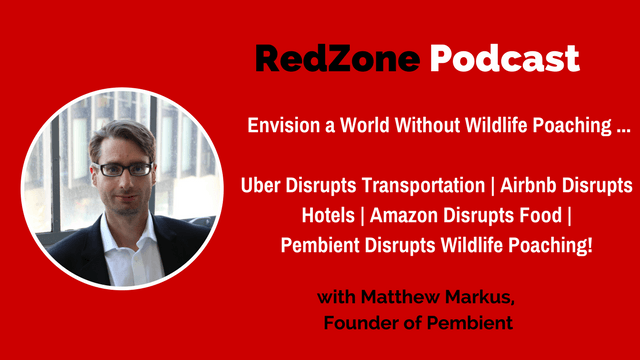 My guest this week is Matthew Markus, co-founder and CEO of Pembient.
We discuss digital biology, cellular agriculture, 3D printing, security of species, big visions, entrepreneurship and envisioning a world without wildlife poaching and the destruction of species.
What does it take to disrupt the illegal trade of animals and envision a world that has an increasing population of rhinos?
Pembient is leveraging advances in biotechnology to fabricate wildlife products, such as rhino horn and elephant ivory, at prices below the levels that induce poaching. Their goal is to replace the illegal wildlife trade, a $20B black market, and the fourth largest after drug, arms, and human trafficking, with sustainable commerce.
Download_the_Full_Transcript>>
About Matthew Markus
Matthew is Co-founder and CEO of Pembient, a company biofabricating wildlife products. A serial entrepreneur, Matthew has 15 years of startup experience. His past ventures include PrivacyBank.com, an internet company that was acquired by InfoSpace (now NASDAQ: BCOR). Matthew's passion presently lies with the emerging animal replacement industry, of which Pembient is a part. Pembient seeks to stop the poaching of, and prevent the farming of, iconic species. Chief among these is the rhinoceros, whose horn is prized as a carving material. Pembient uses the tools of biotechnology to create biofabricated horn that has the same molecular structure as horn produced by a rhinoceros. The company has been featured on CNN, TechCrunch, and The Guardian. Via Pembient, Matthew is a graduate of IndieBio, the world's first biotech accelerator. Additionally, he holds a B.S. in Mathematics and Computer Science from the University of Illinois at Urbana-Champaign, and a Masters of Engineering Management, as well as an M.S. in Genetic Epidemiology, from Washington University in St. Louis.
Major Take-Aways From This Episode:
The source and cause of poaching is not what you think.
How to use Design thinking approach to prototyping.
Recently launched

 

ICO

 

for pre-paid private contracts.
The concept of

 

de-risking
Companies printing meat:

 

Memphis Meat,

 

Modern Meadow,

 

Hampton Creek Foods
How to get in touch with Matthew Markus
Website:
Love this episode? Leave a Review 
Share it on your LinkedIn feed.
If you haven't already, please make sure you leave us a review on iTunes.
About Bill Murphy
Bill Murphy is a world-renowned IT Security Expert dedicated to your success as an IT business leader. 
Connect With Us On Social Media
Connect with Bill on LinkedIn.
Instagram
Twitter
Facebook
Join The CIO Innovation Mastermind Community
We invite the top 20% of Business IT Leaders for my CIO Innovation Mastermind Events group to participate in monthly discussions on things like VR, AI, and other disruptive & emerging technologies. If you want to become a member, email Chief of Staff, Jamie Luber Jluber@redzonetech.net for more information.
Subscribe To Bill Murphy's RedZone Podcast