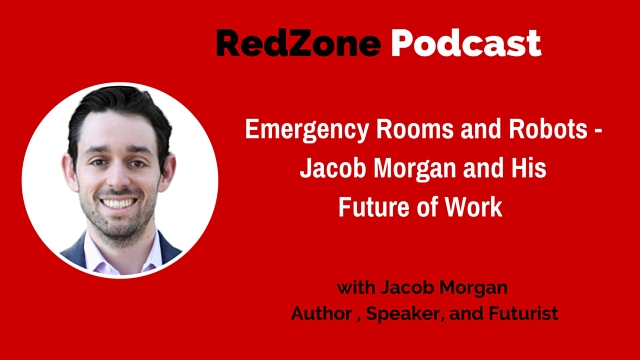 Jacob Morgan is an author, speaker and futurist. Jacob is a great resource for Business Technology Leaders as he helped craft and create this Future of Work Conversation from scratch 8 years ago.
Jacob's latest book, The Future of Work: Attract New Talent, Build Better Leaders, and Create a Competitive Organization, explores how the workplace is changing and was endorsed by business leaders such as the Chairman of KPMG, CEO of Whirlpool, CEO of Intuit, CEO of SAP, CEO of Schneider Electric, and many others.
Download the Full Transcript>>
Jacob also co-founded the Future Of Work Community which is a brand council of the world's most forward thinking organizations who come together to explore the future of work. He frequently speaks at conferences and events all over the world and contributes to media publications such as Forbes, the WSJ, USA Today, INC Magazine, CNN, and many others.
His clients include companies such as Microsoft, St. Jude Children's Research Hospital, NYU, Wells Fargo, The Harvard Business Review, SAP, Cisco, and many others. Jacob also hosts the popular Future of Work Podcast where he interviews business leaders, executives, and authors. In addition he has a bi-weekly Youtube video series called the Future in 5 and a longer form program called The Future of Work Show where he goes inside of the world's most forward thinking companies to interview employees, executives, and tour their offices.
Major take-aways from this episode are:
1. What people ask him most about Future of Work as he speaks around the world
2. Tools being used to augment your education.
3. The future of AI and Robotics for jobs.
4. What Cisco is doing for their workers?
5. Organizational Design and Employee Experience.
How to get in touch with Jacob Morgan
Website:
Podcast:
Publications:
Books:
YouTube:
Love this episode? Leave a Review 
Share it on your LinkedIn feed.
If you haven't already, please make sure you leave us a review on iTunes.
About Bill Murphy
Bill Murphy is a world-renowned IT Security Expert dedicated to your success as an IT business leader. 
Connect With Us On Social Media
Connect with Bill on LinkedIn.
Instagram
Twitter
Facebook
Join The CIO Innovation Mastermind Community
We invite the top 20% of Business IT Leaders for my CIO Innovation Mastermind Events group to participate in monthly discussions on things like VR, AI, and other disruptive & emerging technologies. If you want to become a member, email Chief of Staff, Jamie Luber Jluber@redzonetech.net for more information.
Subscribe To Bill Murphy's RedZone Podcast