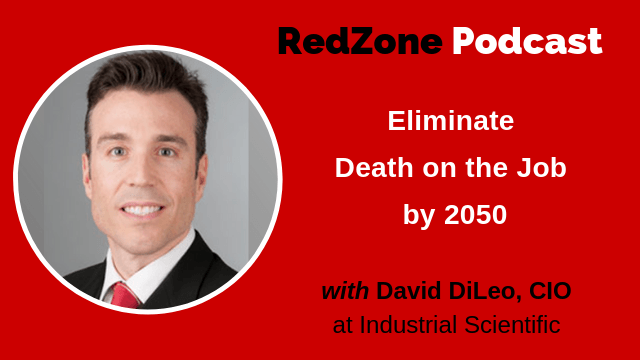 If you enjoy listening to my podcast, please take a minute to leave a review here!
Today you will hear a power-packed Episode with a world-class CIO. My guest today is David DiLeo, the Chief Information Officer at Industrial Scientific.
If you aspire and dream of a big job as a CIO and then land there, what would you do next? Well, 5-1/2 years ago, David landed at Industrial Scientific. What he and his team have achieved during that time has been remarkable.
As CIO, David is responsible for the information technology needs of Industrial Scientific which includes leading a large and diverse technical team comprised of ERP, business applications, application development, business intelligence, IT security, global infrastructure, and support functions. This team represents a world-class IT organization with capabilities that deliver high quality and data-driven solutions to both internal and external customers.
If you want to hear about good old-fashioned project management delivered at a world-class level, this Podcast is for you.
Here are some areas we cover:
Changing the Brand of IT.
How to create a scalable IT organization to support a business.
Changing IT from "Reactive" to "Proactive" – This is impressive since it was delivered in the midst of tremendous complexity and scale – not just lip service or words that everyone in business wants to hear from top CIO's.
Project management can give you the broadest understanding of business. See why the path to David's CIO role – a progression of technical, project management, middle management, and then senior management roles – was significant.
The powerful impact of IoT in his world.
How he integrated top-notch security into his environment following risk-based and security-by-design principles.
How people (good people) joined him on the journey to transform the business.
How he remains grounded and balanced.
His vision for himself and the business over the next few years.
This is only a small subsection of what you will learn from listening, enjoy!
Download the Full Transcript>>
Major Take-Aways from This Episode:
How to focus on delivering value first by partnering as a consultant with the business.
Benefits of segmenting types of project management depending on risk, Agile/lean vs. Waterfall tactics and techniques.
How to strategically use 3rd-party vendors to outsource low-value commodity work and retain high-skill, high-value skills in-house.
How to use security to add offense capabilities and remove latency in the sales process.
About David DiLeo:
David DiLeo joined Industrial Scientific in 2013 as the Global Director of Information Technology and was promoted to Chief Information Officer in September 2015. Now as CIO, David is responsible for the information technology needs of this leading gas detection, safety analytics, and connected device (IoT) company.
Previously, David was the VP & Director of Quality Assurance, Strategic Information & Risk Technology, at PNC Financial Services Group. He also served as the IT Group Manager of Integrated Service Solutions at Pratt & Whitney, a division of United Technologies Corp., where he was responsible for managing the development and operations of Pratt & Whitney's real-time advanced diagnostic engine monitoring solution.
He earned his MBA from the University of Hartford and a Bachelor of Science in Business Administration from Central Connecticut State University. He also holds Project Management Professional (PMP) certification from the Project Management Institute, and a certification in quality and process improvement (ACE Associate) from United Technologies Corp. He is a lifetime member of Beta Gamma Sigma, International Honor Society.
How to get in touch with David DiLeo:
Key Resources + Links:
This episode is sponsored by the CIO Scoreboard, a powerful tool that helps you communicate the status of your IT Security program visually in just a few minutes.
Love this episode? Leave a Review 
Share it on your LinkedIn feed.
If you haven't already, please make sure you leave us a review on iTunes.
About Bill Murphy
Bill Murphy is a world-renowned IT Security Expert dedicated to your success as an IT business leader. 
Connect With Us On Social Media
Connect with Bill on LinkedIn.
Instagram
Twitter
Facebook
Join The CIO Innovation Mastermind Community
We invite the top 20% of Business IT Leaders for my CIO Innovation Mastermind Events group to participate in monthly discussions on things like VR, AI, and other disruptive & emerging technologies. If you want to become a member, email Chief of Staff, Jamie Luber Jluber@redzonetech.net for more information.
Subscribe To Bill Murphy's RedZone Podcast