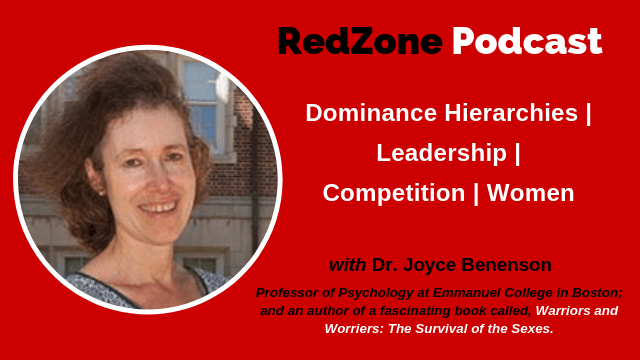 If you enjoy listening to my podcast, please take a minute to leave a review here!
I found my guest today, Dr. Joyce Benenson, through a book I read called Top Dog, recommended to me by one of my recent guests, Navy Seal, Captain Tom Chaby.
Joyce is a professor of Psychology at Emmanuel College in Boston and an Associate Member of the Human Evolutionary Biology department at Harvard University. She is an author of a fascinating book called Warriors and Worriers: The Survival of the Sexes. The book explores the evolutionary differences between men and women and how they survive through competitiveness. Drawing on an interesting array of studies and stories that explore the ways boys and men deter their enemies, while girls and women find assistants to aid them in coping with vulnerable children and elders, Benenson turns upside down the familiar wisdom that women are more sociable than men and that men are more competitive than women.
As much as I love to interview guests on leadership and high performance topics on my podcast, in this interview, Joyce and I discuss what IT business leaders could learn from her studies on gender differences to get the most out of their high performance teams.
Key Points of Interest in This Episode:
I think self-awareness is the key to being a high-performance leader. You will need to draw your own conclusions from my discussion with Joyce Benenson. In an age of political correctness and non-brave communications, I love reading and listening to experts who explore topics worth considering in our political environment.
As you explore your own process of developing as a leader in business and in your life, learn unique biological attributes of man and women that will help you be a better more "self-aware" leader.
With this, I'd like to welcome you to my interview with Joyce Benenson.
Download the Full Transcript>>
Major Take-Aways From This Episode
Men can recover and make up after a head-on conflict while women cannot.
What happens when you place eight 4-year old's in a room and ask them to decide who is going to be the leader?
Differences with men and women in competition and sports
Being aware of the feminization of men/boys so you can call into question your beliefs on this topic.
Why is it so hard for women to "reconcile" after a fight?
Women, Power, and Hierarchies – How sports can be a positive framework for competition, power, and hierarchy
Tips on helping women in competitive environments
The roles of respect for men
About Joyce Benenson
Dr. Joyce Benenson is currently a professor of Psychology at Emmanuel College in Boston and an Associate Member of the Human Evolutionary Biology department at Harvard University. She has studied children's interactions since she was 19 as an undergraduate at Duke University.
After obtaining her Ph.D. from Harvard University in 1988, she was a post-doc at Radcliffe College, an assistant professor at the University of Hartford, an assistant/associate professor at McGill University in Montreal, Canada, and a reader in Ethology at the University of Plymouth in England before her current positions.
How to get in touch with Joyce Benenson
Books | Articles | Links
Warriors and Worriers: The Survival of the Sexes, by Dr. Joyce F. Benenson, Henry Markovits, and Coleen Marlo.
Emmanuel College Profile

 

and list of publications.
No Hard Feelings, Article from The Economist, 2016 that talks about a theory by Joyce Benenson that reconciliation after competition is more a masculine than a feminine trait.
Men may have evolved better "making up" skills, Article from BBC News, 2016 that discusses Men's historical dominance of the workplace may, in part, be because of their ability to reconcile with enemies after conflict, a new study suggests.
Gender predicts how athletes interact after game, Reuters.com article, 2016 talks about a study of four sports that showed that male pro-athletes may linger on peaceful or even loving touches after a match, while female athletes don't tend to embrace as heartily.
This episode is sponsored by the CIO Scoreboard, a powerful tool that helps you communicate the status of your IT Security program visually in just a few minutes.
Love this episode? Leave a Review 
Share it on your LinkedIn feed.
If you haven't already, please make sure you leave us a review on iTunes.
About Bill Murphy
Bill Murphy is a world-renowned IT Security Expert dedicated to your success as an IT business leader. 
Connect With Us On Social Media
Connect with Bill on LinkedIn.
Instagram
Twitter
Facebook
Join The CIO Innovation Mastermind Community
We invite the top 20% of Business IT Leaders for my CIO Innovation Mastermind Events group to participate in monthly discussions on things like VR, AI, and other disruptive & emerging technologies. If you want to become a member, email Chief of Staff, Jamie Luber Jluber@redzonetech.net for more information.
Subscribe To Bill Murphy's RedZone Podcast