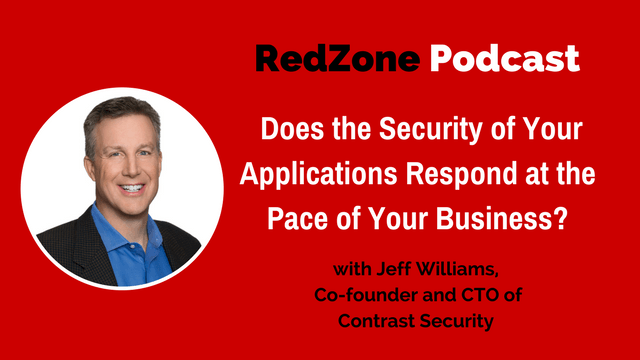 My guest this week is Jeff Williams, co-founder and Chief Technology Officer at Contrast Security.
The reason that I wanted Jeff on the program is that his technology was massively interesting to me, given that application attacks are the single biggest vector for security breaches. In 2017 There will be 111 billion new lines of code produced resulting in endless complexity.
His product was an Innovation Sandbox Finalist at RSA this year. So I wanted to understand more.
I have tried to integrate application level firewalls and experienced working through real & hard human challenges of coders and network security people trying to defend and deploy at the same time I wanted to understand his technology better AND because iterative application development is going to be even more important for companies for their security to move at the pace of the business innovation and applications development and testing becoming more and more iterative and agile. So how do we do this?
Download the Full Transcript>>
Major Take-Aways From This Episode:
Planes, Cars, for example, are instrumented to security events via a dashboard and panel
Instrument your software and turn it into self protecting software (like an internal robot helper) … always-on protection of an entire application portfolio
Weave sensors into your application without disruptive scanning or expensive security experts
Continuous Application Security at Scale & the Future of Dev Sec Ops
Named a "Visionary" by Gartner
The only "Transformational" tool in the entire category in the latest Gartner Hype Cycle Report.
About Jeff Williams
Jeff is co-founder and CTO of Contrast Security. He's been working in application security for over 20 years and has found thousands of serious vulnerabilities in critical applications in hundreds of leading companies. He's extremely active in both open source and security communities and helped start OWASP where he created many open source tools and projects. Jeff pioneered the use of software instrumentation for application security and founded Contrast Security to bring this revolutionary technology to market. Jeff has spoken at conferences including JavaOne (Java Rockstar), BlackHat, QCon, RSA, and OWASP.  Jeff has degrees from UVA, George Mason, and Georgetown University Law Center.
How to get in touch with Jeff Williams
Key Resources:
Interview(s):
Love this episode? Leave a Review 
Share it on your LinkedIn feed.
If you haven't already, please make sure you leave us a review on iTunes.
About Bill Murphy
Bill Murphy is a world-renowned IT Security Expert dedicated to your success as an IT business leader. 
Connect With Us On Social Media
Connect with Bill on LinkedIn.
Instagram
Twitter
Facebook
Join The CIO Innovation Mastermind Community
We invite the top 20% of Business IT Leaders for my CIO Innovation Mastermind Events group to participate in monthly discussions on things like VR, AI, and other disruptive & emerging technologies. If you want to become a member, email Chief of Staff, Jamie Luber Jluber@redzonetech.net for more information.
Subscribe To Bill Murphy's RedZone Podcast