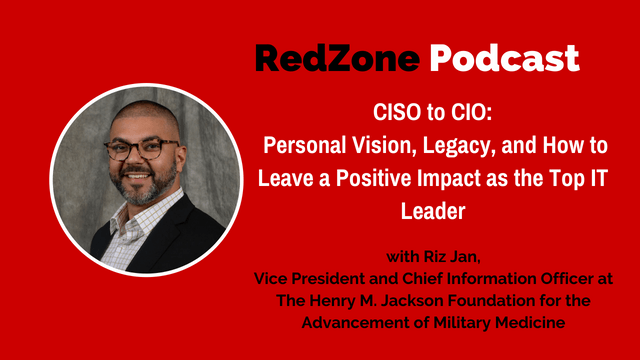 My guest this week is Riz Jan, the Vice President, Chief Information Officer at The Henry M. Jackson Foundation (HJF) For the Advancement of Military Medicine.
Riz is a dynamic technology and security executive leading an extensive strategic digital transformation to simplify and modernize the technology architecture within HJF.
In this interview, Riz and I focus on what it takes to be a great IT leader and the crucial investments you need to make in yourself.
What I love about Riz's leadership philosophy that stems from his immigrant background is his no fear approach in taking risks. Listen to this episode to learn more about the role of legacy and making a positive impact as an IT leader.
Download the Full Transcript>>
What you will learn from this is:
The impact of fearlessness and stepping into the edge of your comfort zone in Riz's ascendance from CISO to CIO
Ongoing learning and resilience as a leader
The role of having a vision of what your personal legacy will be and the imprint you will leave on people when you die.
The power of Networking
The incredible role of mentors and surrounding yourself with great people
How application security can be your gateway to understanding the business and delivering tremendous value to it
How to work for strong leaders like 2 star generals
Important leadership skills like empathy, 'water cooler' and EQ skills
Stress management
Here are some other points of interest you will like from:
What Riz learned as an immigrant and what formed him as a human being and as a leader.
Why is it important to have "no fear" and taking risks as a leader?
The importance of networking "the hell out of everyone" he learned in college @13:35
The ongoing learning: why you should be curious to learn about other people? @14:15
How being on application side of the house helped Riz learn and engage with "the business portion" of his organization @ 19:05
Why IT Leaders need to break out of the bubble of being an IT guru and engage with organization's stakeholders and educate them on security @19:45
Ways application security helped Riz engage with the business:

How to build a product solution for the business?
What is the business trying to accomplish?
What are you doing with the collected data and what do you want to get out of it?
What is your end goal result?
How are you going to improve the business by specific application or tool?

Riz's take on the mentors that "raised" him and why continuous mentor – mentee relationship is extremely important @ 22:20
Learn about Riz's "Water cooler approach" to leadership @23:40
What does it take to be an IT leader under a two-star general? @27:58
Great advice from a two-star general on reporting about an issue: "I want to know 30% of why it happened and 70% of why it won't happen" @29:10
How do you focus and deliver for a demanding leader? @31:55
Why a Project Manager is "key to everything" when interacting with the business and what it takes to have a successful PM to implement a culture change@ 33:05
What Riz loves about the job and why he takes the time to re-invest and re-invigorate his team members @34:55
Retaining your IT talent with empathy, soft skills, and EQ skills @37:13
Leadership stress management : lifting, running, meditation, and

 

Insight Timer App
How to move IT security at the pace of your Business: IT Security has to be "baked" into the business @45:30
How to leave a legacy as an IT Leader: "Do something you really, really like and kickass in it at the end of the day."@47:15 
About Riz Jan
Rizwan A. Jan, CISSP, PCIP, CTPRP, is the Vice President, Chief Information Officer at The Henry M. Jackson Foundation (HJF) For the Advancement of Military Medicine.
Jan is a dynamic technology and security executive leading an extensive strategic digital transformation to simplify and modernize the technology architecture within HJF. He has developed an IT roadmap with a healthy investment strategy focusing on technology issues such as governance and policy, resource allocation, information technology protocols, and HJF's technology organization.
Jan has held several leadership roles in the healthcare industry and has spent close to two decades in the planning, development, delivery and monitoring of technical solutions that address the needs of Fortune 500 companies and not-for-profit organizations. Most recently, as the Chief Information Security Officer for HJF, Jan erected a robust Global Information Security Office to protect HJF's information according to Federal cybersecurity regulations. The office ensures the stability and security of HJF's information assets and infrastructure.
Jan takes an active role in providing his professional perspective to industry challenges in community forums such as Gartner, a research and advisory company, (ISC)², an international nonprofit association for leading information security leaders and Information Systems Audit and Control Association (ISACA) CSX Working Group. He also serves on the Enterprise Mobility Advisory Board.
Jan is a thought leader whose insight and knowledge are featured in industry media outlets and speaking engagements. Sync-Magazine highlighted Jan for his leadership in building strategic relationships that create a culture that fuels ownership, accountability, responsiveness and innovation.
How to get in touch with Riz Jan
Key Resources:
This episode is sponsored by the CIO Innovation Insider Council, dedicated to Business Digital Leaders who want to be a part of 20% of the planet and help their businesses win with innovation and transformation.
Love this episode? Leave a Review 
Share it on your LinkedIn feed.
If you haven't already, please make sure you leave us a review on iTunes.
About Bill Murphy
Bill Murphy is a world-renowned IT Security Expert dedicated to your success as an IT business leader. 
Connect With Us On Social Media
Connect with Bill on LinkedIn.
Instagram
Twitter
Facebook
Join The CIO Innovation Mastermind Community
We invite the top 20% of Business IT Leaders for my CIO Innovation Mastermind Events group to participate in monthly discussions on things like VR, AI, and other disruptive & emerging technologies. If you want to become a member, email Chief of Staff, Jamie Luber Jluber@redzonetech.net for more information.
Subscribe To Bill Murphy's RedZone Podcast