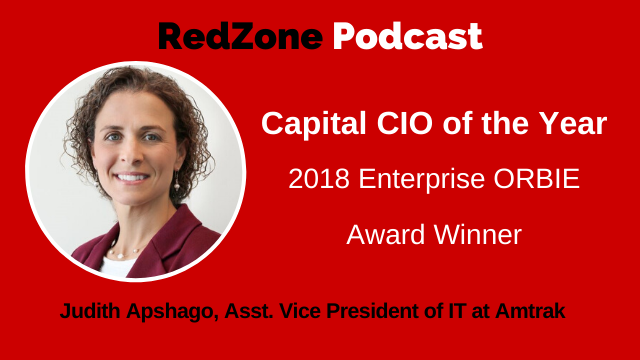 My guest today is Judith Apshago. Judith's leadership talents were recognized in a big way in December 2018 when she was chosen from a group of 88 nominees, to receive the Capital CIO of the Year, Enterprise ORBIE Award recognizing her achievements as Vice President and Chief Information Officer of U.S. Silica, a leading producer of performance materials and industrial minerals and last-mile logistics provider. This award recognizes technology executives for leadership, innovation and excellence. She was awarded the Norma Miller Passionate Philanthropist Award the same year.
Judith is an accomplished IT executive with over 25 years of leadership experience in information technology, most recently in a new role as Assistant Vice President of IT at Amtrak, and prior to that as Vice President and Chief Information Officer of U.S. Silica where she spearheaded an IT and digital transformation to support the company's rapid and substantial growth. She led a company-wide technology modernization, shifted IT from a utility provider to a high-performing strategic business partner, integrated multiple acquired companies, and collaborated with business leaders on strategic initiatives that enabled scalability, drove business efficiencies, and provided market differentiation.
This is a fantastic conversation and I know you will love it.
The biggest take-aways from this episode:
Importance of collaboration, understanding people, and building relationships.
How to develop a team of mentors and develop a personal 'board of directors' to address important career changes and business challenges you face as an IT leader.
How do you communicate your personal vision within the context of the overall organization?
How do you gain support from the top down, the buy-in of the business, the leadership, and your team?
What were her critical learning moments in her career?
How to reduce fear in an organization.
How do you improve things with technology? How do you leverage technology to make business better?
Crossing the t's and dotting the i's. Don't let the 'perfect' be the enemy of the 'good enough'
Resources + Links from the Podcast
H. James Dallas, Author|Speaker|Consultant. President, James Dallas & Associates. Speaker at the 2019 Capital ORBIE Awards
Download the Full Transcript>>
How to get in touch with Judith Apshago
I hope you enjoyed this interview with Judith Apshago. You can go to the show notes to read the details of what we discussed in this episode.
This episode is sponsored by the CIO Innovation Forum, dedicated to Business Digital Leaders who want to be a part of 20% of the planet and help their businesses win with innovation and transformation.
Love this episode? Leave a Review 
Share it on your LinkedIn feed.
If you haven't already, please make sure you leave us a review on iTunes.
About Bill Murphy
Bill Murphy is a world-renowned IT Security Expert dedicated to your success as an IT business leader. 
Connect With Us On Social Media
Connect with Bill on LinkedIn.
Instagram
Twitter
Facebook
Join The CIO Innovation Mastermind Community
We invite the top 20% of Business IT Leaders for my CIO Innovation Mastermind Events group to participate in monthly discussions on things like VR, AI, and other disruptive & emerging technologies. If you want to become a member, email Chief of Staff, Jamie Luber Jluber@redzonetech.net for more information.
Subscribe To Bill Murphy's RedZone Podcast