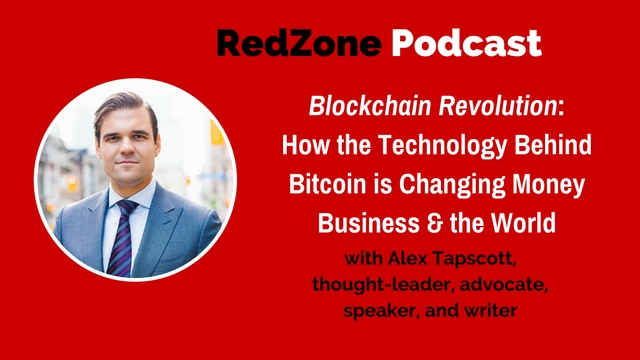 My guest this week is Alex Tapscott. Alex is the co-author of the critically acclaimed non-fiction bestseller Blockchain Revolution: How the Technology Behind Bitcoin is Changing Money, Business, and the World. A Definitive Guide for Business IT Leaders, this book is "on how to survive and thrive in this next wave of technology-driven disruption. Likely to become one of the iconic books of our time." (Clay Christensen, author of The Innovator's Dilemma)
Major Take-Aways From This Episode:
Reclaim Control of your Privacy and Identity
No, Privacy is Not Dead
The benefits of ultimate User centric identity
Revolutionizing Business, Institutions, and the Economy
Learn about Types of Blockchains
Why Blockchain is a trust protocol
How Blockchain could disrupt the sharing economy' with Uber and Airbnb for example
The massive positive social impact
About Alex
Alex Tapscott is a globally recognized thought-leader, speaker and writer focused on the impact of emerging technologies on business, society and government. Alex is the co-author (with Don Tapscott) of the critically acclaimed #1 Globe and Mail Non-fiction best-seller, BLOCKCHAIN REVOLUTION: HOW THE TECHNOLOGY BEHIND BITCOIN IS CHANGING MONEY BUSINESS AND THE WORLD. His writing has been featured in TIME, Fortune, Forbes, the Harvard Business Review, the Toronto Star, the Globe and Mail and dozens of other publications.
Alex is the founder and CEO of Northwest Passage Ventures, a social innovator. Alex currently sits on Advisory Board to Elections Canada, the independent, non-partisan agency responsible for conducting federal elections and referendums. He is also a founding Member of the World Economic Forum's Global Futures Council on Blockchain. Alex is a graduate of Amherst College (cum laude) and is a CFA Charterholder. He lives in Toronto.
How to get in touch with Alex Tapscott:
Website:
Books:
Blockchain Revolution: How the Technology Behind Bitcoin is Changing Money Business and the World
Publications:
The Internet of Things Needs a Ledger of Things, Forbes Magazine
Contributing Articles, Forbes Magazine
Other Resources:
Love this episode? Leave a Review 
Share it on your LinkedIn feed.
If you haven't already, please make sure you leave us a review on iTunes.
About Bill Murphy
Bill Murphy is a world-renowned IT Security Expert dedicated to your success as an IT business leader. 
Connect With Us On Social Media
Connect with Bill on LinkedIn.
Instagram
Twitter
Facebook
Join The CIO Innovation Mastermind Community
We invite the top 20% of Business IT Leaders for my CIO Innovation Mastermind Events group to participate in monthly discussions on things like VR, AI, and other disruptive & emerging technologies. If you want to become a member, email Chief of Staff, Jamie Luber Jluber@redzonetech.net for more information.
Subscribe To Bill Murphy's RedZone Podcast