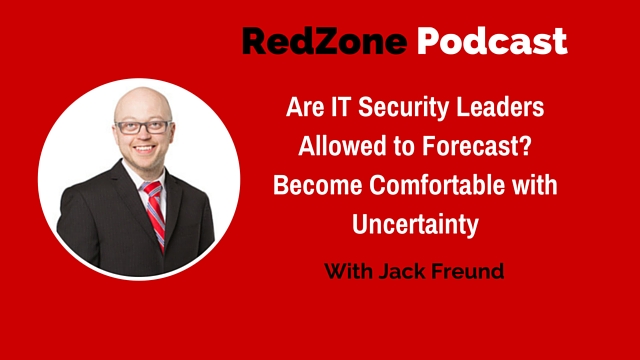 Download the Full Transcript>>
Major take-aways from this episode are:
1. Elevate Your IT Security Risk Communication Game using Data Breach reports to Inspire Action in the Business
2. How to use Risk Data so that the business becomes more comfortable with uncertainty
3. New Refreshing perspectives on presenting IT Security Risk to the business
4. Predicting and Forecasting likelihood and frequency of events happening into your risk analysis
5. How to Use External Data Breach Sources of competitors and non-competitors to build your risk cases.
About Jack
Dr. Jack Freund is a leading voice in Information Risk measurement and management with experience across many industry segments. His corporate experience includes spearheading strategic shifts in IT Risk by leading his staff in executing multimillion dollar efforts in cooperation with other risk and control groups.
Jack has been awarded a Doctorate in Information Systems, Masters in Telecom and Project Management, and a BS in CIS. He holds the CISSP, CISA, CISM, CRISC, CIPP, and PMP designations. Jack's academic credentials include being named a Senior Member of the ISSA, IEEE, and ACM, a Visiting Professor, and an Academic Advisory Board member.
How to get in touch with Jack Freund
Key Resources:
Books/Publications
Love this episode? Leave a Review 
Share it on your LinkedIn feed.
If you haven't already, please make sure you leave us a review on iTunes.
About Bill Murphy
Bill Murphy is a world-renowned IT Security Expert dedicated to your success as an IT business leader. 
Connect With Us On Social Media
Connect with Bill on LinkedIn.
Instagram
Twitter
Facebook
Join The CIO Innovation Mastermind Community
We invite the top 20% of Business IT Leaders for my CIO Innovation Mastermind Events group to participate in monthly discussions on things like VR, AI, and other disruptive & emerging technologies. If you want to become a member, email Chief of Staff, Jamie Luber Jluber@redzonetech.net for more information.
Subscribe To Bill Murphy's RedZone Podcast