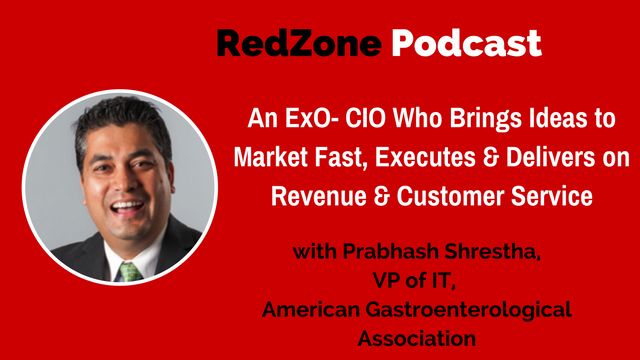 My guest for this episode was a great IT Leader Prabhash Shrestha.
Prabhash, Vice President of Information Technology, currently overseas, manages, strategizes business and operation of digital and Health IT at American Gastroenterological Association (AGA). He actively works with AGA's senior management team, board and volunteers, members, and business partners in analyzing the trends and the direction of technology of AGA.. Previously, he was Chief Information Officer (CIO) at Association of Fundraising Professionals for eight years, from 2006 to 2014.
He was chosen as DC's Top Association Tech Gurus by Trending 40. He was honored as the Top Ten Association Technology Leaders by Association Trends in December 2015. He was also awarded Top Association & Non-Profit Innovators 2015. Prabhash was chosen as the Top Innovators in the Washington, DC Association and Non-Profit community in January 2015. He was featured on the The A List on 2014 Nov/December issue of Associations Now magazine. He also was featured as one of the Top 5 under 35 in 2007. He has been interviewed on by various publications, radio and news media, and magazines. He speaks frequently at non-profit/association technology conferences and other conferences on various technology, leadership, management and business issues.
Prabhash holds a Master of Science in Information Systems. and holds Massachusetts Institute of Technology (MIT) Sloan Executive Certificate on Strategy and Innovation. He has been teaching at Georgetown University's Master's Degree program in Technology Management since 2010. He has won several teaching excellence awards at Georgetown University.
Download the Full Transcript>>
Major Take-Aways From This Episode:
1. His almost automatic focus on revenue and customer needs,
2. I don't mean the clique customer needs examine but really putting yourself in the customer, patient, experience so that you really, really know it,
3. How to bring quick wins to market,
4. He has an approach we discussed where you evaluate 5 areas a) Audit the market b) Build a MVP minimum viable product fill the gap c) Shrink the time to market d) Grow by examining data (a Core IT leader skill) e) and evolving the product,
5. Books and articles he recommends.
How to get in touch with Prabhash Shrestha:
Book Recommendations:
Interview(s):
Love this episode? Leave a Review 
Share it on your LinkedIn feed.
If you haven't already, please make sure you leave us a review on iTunes.
About Bill Murphy
Bill Murphy is a world-renowned IT Security Expert dedicated to your success as an IT business leader. 
Connect With Us On Social Media
Connect with Bill on LinkedIn.
Instagram
Twitter
Facebook
Join The CIO Innovation Mastermind Community
We invite the top 20% of Business IT Leaders for my CIO Innovation Mastermind Events group to participate in monthly discussions on things like VR, AI, and other disruptive & emerging technologies. If you want to become a member, email Chief of Staff, Jamie Luber Jluber@redzonetech.net for more information.
Subscribe To Bill Murphy's RedZone Podcast