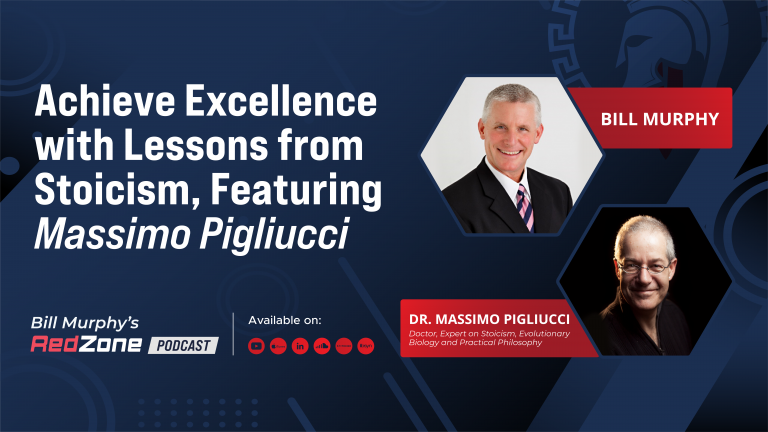 Stoicism has become very popular recently, but why?
Stoicism is a philosophy for life that dates back 1000s of years. It's philosophical tenants which attracted visionary leaders like Adam Smith, Thomas Jefferson and George Washington, are now finding a rebirth within our culture.
We exist in a time where personal leadership is critical. The techniques that stoics use to achieve their goal of self improvement can be useful tools for business leaders to shape their thinking, achieve excellence and flourish in life.
Learn more about why following the practical philosophy of stoicism can help business and IT leaders frame their minds in a positive direction, thereby improving decision-making and reasoning skills quickly.
Featuring Dr. Massimo Pigliucci –

 

Expert on Stoicism, Evolutionary Biology, and Practical Philosophy 
In this podcast, I'm joined by the expert on stoicism, Dr. Massimo Pigliucci, to learn how we can all build a practical roadmap to a happy life. Dr. Pigliucci is a Professor of Philosophy at City College of New York.
He holds a Ph.D. in Evolutionary Biology from the University of Connecticut and a Ph.D. in Philosophy from the University of Tennessee. He is also the author and editor of 13 books, including his latest book, "A Field Guide to a Happy Life: 53 Brief Lessons for Living." 
I spoke with Dr. Pigliucci on my podcast several years ago about Ethics and AI, the types of Ethical Philosophies, the difficulty of programming ethics, and Stoicism. This time, I'm diving headfirst into discussing the practical philosophy of stoicism, a field where Dr. Pigliucci is an expert.
Key Takeaways From This Podcast
How to use the 3 key components of Dr. Pigliucci's philosophy of life to improve your leadership skills (5:00-8:30)

 

How to stop getting lost in other people's perception of you and start focusing on your own ethical self-improvement. 

(23:30-28:20)

 

How to release negative emotions to cultivate higher-level reasoning skills. 

(41:25

-45:45)

 
As a CIO and Business IT Leader here are some wins you will get by listening: 
There are plenty of people in Western culture that are interested in practicing Buddhism. [2:30]

 

The language of Buddhism is alien to me. [3:00]

 

Stoics believe everything is made of matter and connected by cause and effect. [3:30]

 

I define a philosophy of life using three components: Metaphysics, Ethics, and Practices. [5:30]

 

A good human life is one where you use reason to solve problems while having a good social life. [7:30]

 

Taoism, Confucianism, and Buddhism all have strong similarities with Stoicism. [10:00]

Ancient stoics spoke truth to power even though power doesn't like truth to be spoken to it. [14:00]

 

Ancient Greek because it is very difficult to read. I'd rather rely on very good translation instead. [18:00]

 

A practitioner of Stoicism uses the philosophy for life. [18:30]

 

The early Christians were influenced by a good portion of Stoicism teachings. [21:00]

 

Stoicism was used as a handbook by Christian monks for spiritual exercises. [22:00]

 

The theory of philosophy without the practice is useless. [25:00]

 

A life worth living is a life of reason and pro-sociality. [26:00]

 

Self-indulgence is not something that most people think makes for a good life. [28:00]

 

What others are doing is under their control, not yours. [31:30]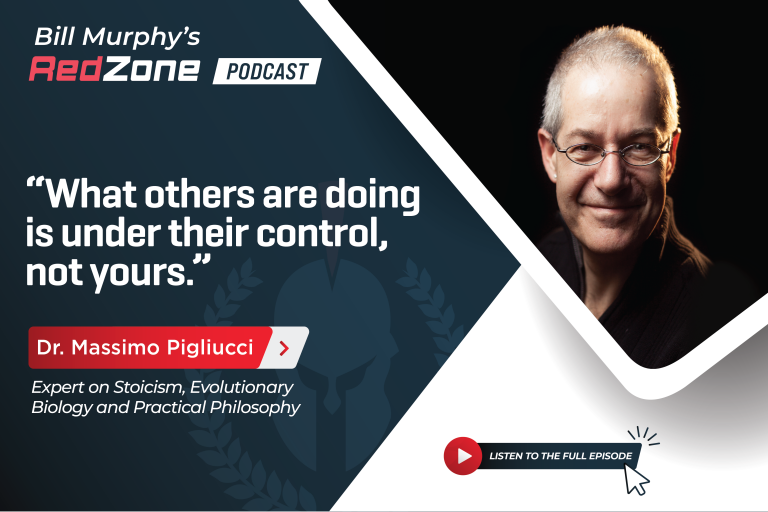 If you improve yourself, you're automatically making the world a better place. [33:00]
If you use good judgments, everything else you do will be good. [34:15]
Everything happens because it is proceeded by causes. [35:15]
Changing the facts is outside your control. Instead, change the way you frame the facts. [40:00]
Stoicism is not about suppressing emotions. Emotions are not something you can suppress. [42:00]
Even if your anger is justified, you don't want to act on the basis of anger. [42:45]
Anger is an emotion that is unhealthy because it interferes with your ability to reason correctly. [43:00]
A sense of justice is a positive emotion that human beings should cultivate. [44:45]
If you're having a negative emotion, you want to let it go as soon as possible. [45:15]
The COVID-19 pandemic is a perfect example of the dichotomy of control. [48:30]

 
How to Connect with Dr. Massimo Pigliucci
Key Resources
Love this episode? Leave a Review 
Share it on your LinkedIn feed.
 If you haven't already, please make sure you leave us a review on iTunes.
About Bill Murphy
Bill Murphy is a world-renowned IT Security Expert dedicated to your success as an IT business leader. 
Connect With Us On Social Media
Connect with Bill on LinkedIn.
Instagram
Twitter
Facebook
Join The CIO Innovation Mastermind Community
We invite the top 20% of Business IT Leaders for my CIO Innovation Mastermind Events group to participate in monthly discussions on things like VR, AI, and other disruptive & emerging technologies. If you want to become a member, email Chief of Staff, Jamie Luber Jluber@redzonetech.net for more information.
Subscribe To Bill Murphy's RedZone Podcast