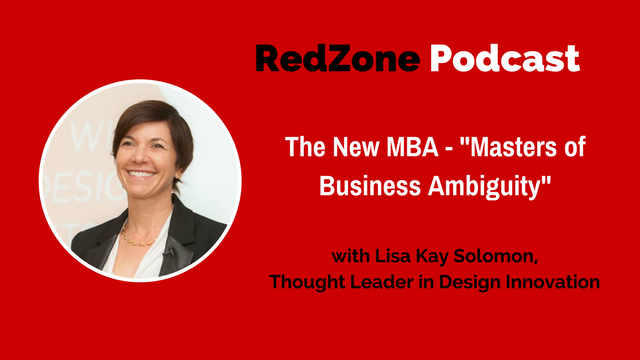 My guest for this episode is Lisa Kay Solomon. If you are into Design Thinking, expanding you leadership skills, innovation, want to learn how to be agile, flexible, nimble and execute both personally and collaboratively with your teams as an IT Business leader, this conversation is for you.
The reason that I asked Lisa onto the show is that she is one of the foremost experts in Design Thinking.
Download the Full Transcript>>
We discuss:
Why the study of

 

Design Thinking

 

is so important moving forward?
The importance of the unique human ability to tell stories.
MBA is now called the "Masters in Business Ambiguity".
The definition of Design Thinking. How do you answer the question, "Is it just drawing pictures?"
Resistance, Hero's Journey, Corporate Anti-bodies: How to generate ideas and protect yourself against naysayers.
What is the definition of a strategic conversation?
When is the last time you felt comfortable not knowing the answers?
Leading with Curiosity.
Best Question on All:

 

If things have gone well, what has happened?
What makes for a great day? If you had a perfect ending to your day, what would it look like?
Overcoming "yeah butts…"
About Lisa Kay Solomon
Lisa Kay Solomon is a well-known thought leader in design innovation with a focus on building the leadership skills required to ignite change and create lasting impact. Lisa is Principal Faculty and Managing Director of Transformational Practices at Singularity University a global community of smart, passionate, action-oriented leaders who want to use exponential technologies to positively impact the world.
Lisa coauthored the Wall Street Journal bestseller, Moments of Impact: How to Design Strategic Conversations that Accelerate Change (Simon & Schuster), which Publisher's Weekly called a guide every frustrated meeting-goer should read, with advice they should all implement. In it, she provides leaders the tools and frameworks to create strategic conversations and design team meetings that shape the future of their organizations.
Her new book, Design a Better Business: New Tools, Skills and Mindset for Strategy and Innovation, was just released with Wiley Publishing. She and her co-authors provide a full set of design tools, strategies and practices that allow individuals and organizations to be more flexible and resilient in the face of constant change.
Lisa is a frequent keynote speaker on innovation, design thinking and leadership at global conferences. She has taught at the revolutionary Design MBA program at California College of the Arts and has developed and led popular classes for Stanford d. School such as Networking By Design and Design With the Brain in Mind.
A passionate educator, Lisa works extensively with K12 educators and school leaders. She is the Executive Producer of the annual Inspired4Schools conference, a design leadership program for educators, and is on the planning committee for The Nueva School's Innovative Learning Conference, a biennial gathering for trends related to the future of education.
Her articles and ideas have appeared in Forbes, Business Week, Medium, Inc., WSJ and the Huffington Post.
Lisa earned a BA from Cornell University and an MBA from New York University – Stern School of Business. She resides in Menlo Park with her husband and two daughters. Join her and the conversation about leading innovation at LisaKaySolomon.com.
How to get in touch with Lisa Kay Solomon
Website:
http://lisakaysolomon.com/
Books:
Other Resources:
Love this episode? Leave a Review 
Share it on your LinkedIn feed.
If you haven't already, please make sure you leave us a review on iTunes.
About Bill Murphy
Bill Murphy is a world-renowned IT Security Expert dedicated to your success as an IT business leader. 
Connect With Us On Social Media
Connect with Bill on LinkedIn.
Instagram
Twitter
Facebook
Join The CIO Innovation Mastermind Community
We invite the top 20% of Business IT Leaders for my CIO Innovation Mastermind Events group to participate in monthly discussions on things like VR, AI, and other disruptive & emerging technologies. If you want to become a member, email Chief of Staff, Jamie Luber Jluber@redzonetech.net for more information.
Subscribe To Bill Murphy's RedZone Podcast