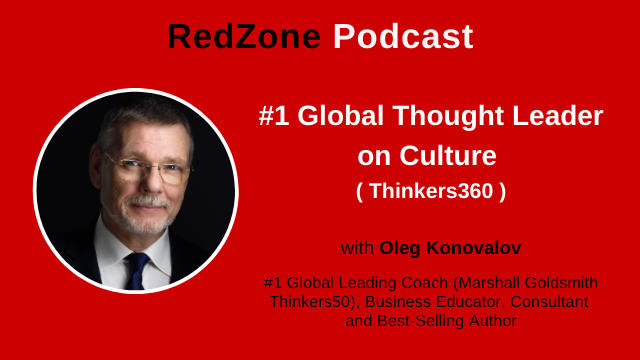 Today my guest is Oleg Konovalov. Oleg received his doctoral degree from the Durham University Business School and is a member of the 2019 Class of Thinkers50 Radar. He has been recognized as #1 Global Thought Leader on Culture by Thinkers360 and is #1 Global Leading Coach (Marshall Goldsmith Thinkers50).
Oleg is an influential and thought provoking business thinker. His long international consulting experience has given him a superior understanding of how business works across different cultures and has made him adept at dealing with challenges at all levels. His research identifies entrepreneurs' and managers' strategic needs in the areas of corporate culture, leadership, and he uses corporate diagnostics, in order to enable them to drive their companies to success.
He is the author of four best-selling business books, and he continues his research and writing journey identifying entrepreneurs and managers' strategic needs and helping them drive their companies to success and become true champions of healthy business culture.
I love talking with leaders like Oleg Konovalov on my podcast. The wisdom they have to share from broad business and life experiences is invaluable. In this episode, Oleg tells some terrific stories about how he teaches leaders and organizations to seek out real problems and find effective solutions.
We discuss the leadership role and why it's important for leaders to create a space for themselves that's different – apart from the problem. Oleg believes that taking this step back and looking at your problem from a different (new) perspective is critical to identify the – often underlying problem, keeping you and your organization from dragging old mistakes into the future.
Oleg also points out a new way of looking at end of career' thinking. If you were 50 or 56 years old 20 years ago, you would be considered at the end of your career. Oleg looks at it quite the opposite. At the employee level, he doesn't think people truly understand how productive and how much these 50-something employees still have to offer.
Listen as we discuss his perspective and the question, If everything changes and everyone is learning in the present, every day, how will we all impact the future and build this new reality from scratch?
You will love every second of this interview with Oleg as he reveals his strong insight about organizational leadership and culture. After you listen to this podcast, you can continue to expand your knowledge bank' and read more from Oleg in his most recent book, LEADEROLOGY.
Here are some of things that you will learn in this podcast episode:
What does Oleg mean when he says, "A dog isn't born to climb on trees"?
Why corporate problems are usually the result of the leader or leaders' action or inaction.
What are the 14 Pathologies in an organization?
Why are only 3% of leaders good at decision making?
Why do complex visions fail?
How do you drill down to identify the real problem?
The value of creating real solutions that add value

 

vs. simply creating content
Why is it essential for today's leader to have a knowledge bank?
The necessity of humility in leadership
Why being curious is such an amazing skill to cultivate
The shift in leadership towards Systemic Approaches; such as Leadership + sharing vs. Boss dominant cultures of non-sharing
Why only 0.1% of leaders have a vision
The difference between Having a Dream

 

vs. Ambition

 

vs. Having a Vision
What will you do with the success you achieve?
How to Connect with Oleg Konovalov
Books + Key Resources
LEADEROLOGY, by Oleg Konovalov with Foreword by John Spence. Published by WILDBLUE PRESS, Denver, Colorado. (2019).
For the full transcript of this episode, click here.
Love this episode? Leave a Review 
Share it on your LinkedIn feed.
If you haven't already, please make sure you leave us a review on iTunes.
About Bill Murphy
Bill Murphy is a world-renowned IT Security Expert dedicated to your success as an IT business leader. 
Connect With Us On Social Media
Connect with Bill on LinkedIn.
Instagram
Twitter
Facebook
Join The CIO Innovation Mastermind Community
We invite the top 20% of Business IT Leaders for my CIO Innovation Mastermind Events group to participate in monthly discussions on things like VR, AI, and other disruptive & emerging technologies. If you want to become a member, email Chief of Staff, Jamie Luber Jluber@redzonetech.net for more information.
Subscribe To Bill Murphy's RedZone Podcast